We Work Directly
With Your Insurance Company
What Is A Water Alarm Detector And How Can It Save You Money?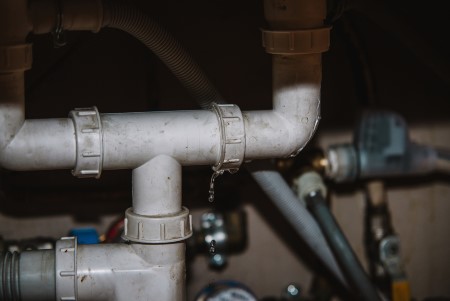 Slow leaks from toilets, kitchen appliances , washing machines, and bathtubs can sometimes go unnoticed for years. By the time you discover the leak, it may be too late, and mold and mildew may already have occurred, taking over the insides of your walls, floor, and ceiling. The water damage also may have caused structural rot that is irreversible. To repair and replace all of the damaged parts of your home, including fixing the leak will cost you time and money. But what if there was a water alarm device that could help you detect a leak early-on and reduce the overall cost of a long-term leak?
What is a Water Alarm Detector?
A water sensor alarm is a device that can detect when excess amounts of water. It goes off when it comes in contact with any water, alerting you to a potential problem. The water alarm can be placed near water heaters, washing machines, sump pumps , bathtubs, toilets, dishwashers, and high-efficiency furnace pumps. It will alert you to any moisture problems. Having a water leak alarm is a great way for mold prevention and flood prevention.
How a Water Tank Alarm Works
There are two types of water leak alarms:
Passive Water Leak Detector. This alarm runs on a 9-volt battery and is placed on the floor near an appliance, like a toilet. The alarm sounds when it comes into contact with water. This is a less expensive way to keep moisture in check. Unfortunately, moisture in the air (which is common in bathrooms and basements, where this device is most useful) can run down the battery and should be checked regularly.
Active Water Leak Detector. This type of alarm is a comprehensive system that can control one appliance or your entire house. When water is detected, not only does it sound an alarm, but it also shuts off the main water supply. Up front, an active water leak system is more expensive, but it can quickly pay for itself by stopping water damage in its tracks.
Why is it Important to Have a Water Sensor Alarm?
In as little as 48 hours after a leak becomes active, mold growth can occur. As long as the leak from your toilet, sump pump , or other appliance keeps going, it feeds the mold spores, allowing them to multiply and worsen. The mold and water damage that builds up in your ceiling, floor, walls, or other surface damages your home structure and appliances, and only worsens with time. The water damage can lead to wood rot, a broken appliance, electrical shortage, rust, or worse, a full house flood.
The longer a leak is left untreated or unnoticed, the worse the damage becomes. And the worse the damage, the longer it will take for a professional to dry out, clean up, and repair the damage. This will end up costing you money, inconvenience, stress, and time. With a water leak detector system in place, you will be alerted to your water leak issue before it develops into full blown damage or excessive mold growth.
Within 48 hours of the alarm going off, you can have professionals dry out your home. They'll use professional water extraction and drying equipment to create air flow and prevent the mold from spreading. The professionals can also fix the source of the leak so that it doesn't persist and get worse over time. Ultimately, the water leak alarm sets you up for success by alerting you to issues before they become catastrophic problems.
Need Help Preventing Mold Growth After a Flood in Your Home?
Call Riverside Restoration Inc. at the onset and avoid insurance delays so the mold and mildew damage to your property will be remediated and restored as quickly, safely, and professionally as possible. We can also help clean up any water damage from a burst pipe, broken appliance, or severe weather storm to prevent further structural damage or mold growth.
At the same time that you call your insurance adjuster, call us, too. We will help you navigate the thicket. Being proactive will help prevent an insurance company from recommending an undesirable contractor out of their own self-interest. As a policy holder, you have the right to choose your own contractor.
When you work with Riverside Restoration Inc., you are assured of professionalism, integrity, and fine craftsmanship. Riverside proudly serves Cos Cob, Darien, Fairfield, Greenwich, New Canaan, Southport, Weston, and surrounding CT areas .
Need Help with Restoration & Remediation?


Contact Riverside Restoration
Contact Us
If you're looking for a water damage restoration company in Westport, call Riverside Restoration Inc. at 203-227-2655 or complete our online request form.