We Work Directly
With Your Insurance Company
Is Your Sump Pump Not Working?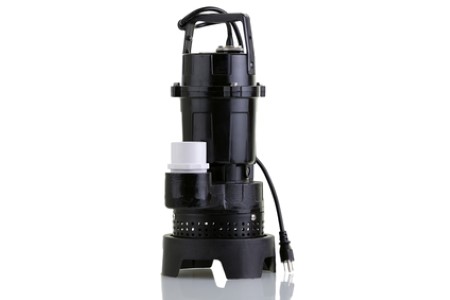 A working sump pump is your home's first defense against flooding and water damage . Sump pumps are devices that pump water out and away from your home to the nearest sewer or drainage ditch. They are usually located in the crawlspace or basement of your house in the lowest corner. If your home doesn't have a basement or crawl space, the sump pump might be located in a utility closet that has a pedestal pump with pipes leading down into the sump or a submersible pump with an attached float arm in the sump itself.
Not all homes have sump pumps. Based on your home's location, if the area is prone to stormy weather, or if you've ever had a flooded basement before, carefully consider having one installed. If you do have a sump pump, you'll want to check it regularly to make sure it is working.
Mark, a Riverside Restoration Inc. customer from Greenwich, CT, had two sump pumps in his basement. Unfortunately when he needed them most, they both failed to work, leaving his basement flooded:
CALEB: This is Caleb Wright with Riverside Restoration Inc., I'm here with Mark. Mark, tell us a little bit about the story of what happened.
MARK: Sure Caleb. This past summer my wife and I had a very large flood in our basement from 2 pretty big sump pumps failing, ended up with about a foot and a half of water in our basement. My wife was able to find Riverside Restoration Inc. by going through the internet and looking for some really good professionals, any sort of water mitigation and any sort of water damage type whether it's a roof or basement. Found Caleb and Riverside Restoration Inc. and he was here almost every day and on the phone, email, texting me to make sure we were all on the same page as far as what we were trying to do. Did a fantastic job you know helping us work with our insurance company to make sure we took care of the loss in the most efficient and professional manner.
CALEB: Would you recommend Riverside Restoration Inc. to family and friends?
MARK: Absolutely, we've actually already recommended Caleb and Riverside Restoration Inc. to my father-in-law who lives up in Westport. Any other friends that we have that have any sort of damage or water damage we wouldn't hesitate at all to recommend Riverside Restoration Inc..
There are many reasons why Mark's sump pumps weren't working that day.
Follow this checklist to make sure yours is in good working order:
Check your outlet pipe for damage: Find the outlet pipe, located on the exterior of your house where the sump pump pushes the water from the basement to the outside. Inspect the pipe for any visible damage. Ice build-up on the pipe's interior or exterior or debris can cause clogs. Do a test to see that water flows freely through the pipe. This will indicate that the pipe is clear of any clogs.
Inspect the electrical cord: Locate the sump pump electrical cord. Make sure it's securely plugged into the wall outlet. Some sump pumps don't have a plug and instead are battery-powered. When storm knocks out power, sump pumps running on electricity won't work. It's usually during these storms when water damage is most likely to occur. To prevent flooding during storms, install a battery backup system, a water powered pump, or have an emergency generator.
Inspect the sump basin: If your sump pump has a lid, lift it up (some are screwed down, so you may need to unscrew it), and check the hole for grime, debris, or clogs. Clean out the basin, removing mud or debris to ensure the water can flow freely to the outside of your house.
Conduct a water test: Carefully pour a bucket of water into the sump pump basin. Do not pour more water into the basin than it will hold. Make sure the pump turns on, empties most of the water from the pit and then turns itself off again. The sump pump should start working when the water level reaches about eight to twelve inches below the floor. If the sump pump doesn't turn on, it may be damaged or clogged. If this is the case, you'll want to consider hiring a professional to repair it or to install a new sump pump.
Fix or replace the sump pump: If you discover an issue with your sump pump and it's not working properly, first try to locate the issue and fix it. A debris-clogged line or a jammed filter is an easy repair. Simply cleaning out the sump pump or outlet pipe should fix the issue. But, if your sump pump is ten years old or greater, it might be time to replace it. The average lifespan of a sump pump is six years. A new sump pump is recommended to ensure it will work when needed. It's also a good idea to replace the pump if it's in disrepair or you're unsure of system's age.
Did your sump pump break and lead to water damage?
Contact Riverside Restoration Inc.. We are available 24/7 to come to your property, assess the damage, and help resolve your water damage issues as quickly as possible. Our team of experts will work with you and your adjuster to help bring your home back to pre-loss conditions. We will help you navigate through the entire process and take on the stress so you don't have to. We provide professionalism, integrity, and fine craftsmanship when you work with Riverside Restoration Inc..
Founded by Caleb Wright, a respected contractor, Riverside Restoration Inc. has done remediation work in hundreds of homes and businesses in Connecticut. We primarily serve Westport, CT and its surrounding areas. Remember: immediate damage containment is critically important to prevent further contamination, damage, and expense.
Need Help with Restoration & Remediation?


Contact Riverside Restoration
Contact Us
If you are looking for a professional water damage repair contractor in Westport or the surrounding area, give us a call today at 203-227-2655 or complete our online request form.