We Work Directly
With Your Insurance Company
4 Tips To Prevent Water Damage From Your Refrigerator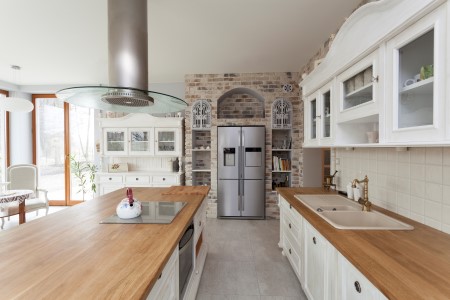 Refrigerators are great for keeping things cold, but what happens when they unexpectedly break? A common, and often preventable issue is a refrigerator leak. These leaks tend to be tricky, as they can start off slowly and get worse over time. If gone unnoticed and unrepaired for a period of time, this can lead to water damage, slip-and-falls, or shock hazards.
A similar issue occurred to our client, Ester, of Westport, CT, who had flooding in her kitchen:
CALEB: This is riverside restoration I am here with Ester Brodie. Ester, tell us a little bit about the loss and the day you discovered it.
ESTER: Woke up in the morning to find a nice flood in my kitchen and tried not to panic. Called the fire department and I said I don't have a fire but I do have a flood but it wasn't that deep. And the fire department said they don't pump the amount of water that I had. A Saturday morning at 7:30am Caleb answered the phone, what a good guy. And I explained what had happened and said when can you come? He said I will be over within the hour and he was. So that was a very good beginning to a nice relationship. I couldn't have begun to take care of this project without really fine professional help. Caleb was absolutely there for me and brought me through this challenging experience and ended up with a really beautiful kitchen.
CALEB: Where you satisfied with the craftsmanship.
ESTER: Yeah, it's really beautiful. It's beautiful everywhere you look.
Protect Your Home From Flooding From a Refrigerator Leak
When your refrigerator is broken, the issue may be something simple like a cracked or broken gasket, or it could be a more complicated mechanical issue. Use these tips to help figure out what is causing your current leak and for future flood prevention.
Check to see if you need a fridge seal replacement. Refrigerators need proper seals and gaskets in order to keep cool air in and warm air out. Improperly sealed appliances can leak water due to condensation and moisture build-up. If warm air leaks into your appliance, it will also cause the appliance to work harder to keep things cold, ultimately shortening its life and raising your electricity bills. Repair or replace any defective fridge gasket seals that aren't smooth, not fully attached, have cracks, tears, or other breaks.
Inspect your refrigerator drain pan. The purpose of a drain pan is to collect all excess water and condensation to prevent it from pooling at the bottom of your fridge. If there is a crack or break in the pan, water can leak from the fridge and onto your floor. If not spotted, mold and mildew may form under and around your refrigerator, potentially causing structural damage to your floor and basement ceiling below.
See if you have a clogged defrost drain. If your fridge has an automatic defrost, then it will have a tube that carries the water from the defrost cycle down to the drain pan. The defrost hole is located in the back wall of the freezer, so if you have water pooling inside of your fridge, this is a good indicator that the issue may be a clogged defrost drain. This can happen if any debris from the defrost cycle ends up in the tube or if there is excess freezing.
Consider if you have a broken ice maker. If your fridge has an ice maker, check the tubing to make sure it is in good working condition. The connection to your ice maker can become easily worn down with regular use or age. The tubing may also be clogged with calcium deposits if your house has hard water. Replace the tubing if necessary to keep the flow of water to your ice maker clear and running smoothly.
By following these tips and providing regular maintenance to your refrigerator, your appliance should be in good working order. This can also give you peace of mind, knowing that you're preventing water damage to your kitchen and home, and avoiding potential issues of mold, structural damage, and slips.
Does You Need a Water Damage Restoration Company to Help You with Your Leaky Appliance?
Call Riverside Restoration Inc. today. Water damage from kitchen appliances can be overwhelming, especially if the source of the leak is not obvious. The first few hours of discovering a flood are crucial to prevent further water damage, mold or mildew growth, and structural damage to your home. One call to Riverside Restoration Inc. at the first sign of water damage can make all the difference in the restoration of your home!
At Riverside Restoration Inc., we proudly service Westport, Weston, Greenwich, Cos Cob, Darien, Southport, New Canaan, Fairfield, Old Greenwich, Riverside, Wilton, CT and the surrounding areas with their flood remediation and water damage restoration needs. We will handle all aspects of your restoration from extraction and drying to the rebuild and remodeling.
Need Help with Restoration & Remediation?


Contact Riverside Restoration
Contact Us
If you are looking for a professional water damage restoration contractor in Westport or the surrounding area, give us a call today at 203-227-2655 or complete our online request form.