We Work Directly
With Your Insurance Company
How To Close Up Your Vacation Home For The Winter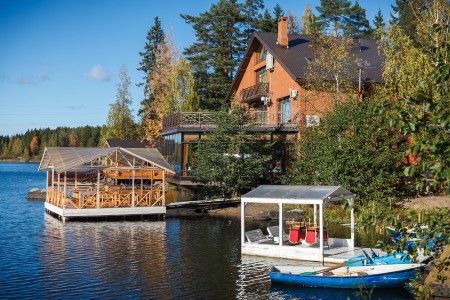 Now that the summer is coming to an end, it's time to close up your vacation home so it's safe and secure for the colder months ahead. Even though taking the time to do these steps may seem daunting, it's important to complete these tasks so your home remains safe and secure until next year. Use this comprehensive guide so you don't miss a step.
Tips To Winterize Your Vacation Home
Follow these tips to safely winterize your vacation home for the summer.
Conduct a Property Inspection

Take a walk around your property and make a list of things that are broken that may cause problems. These may include broken siding, damaged roof shingles, damaged chimney, and cracked foundation. Make notes of the things you can fix before you leave (especially the items that could cause water damage or mold growth over the winter) and the things you'll have to fix when you come back next year. If applicable, also inspect your fireplace and consider hiring a professional to clean it before leaving the summer.

Turn off Water

Turn off the main water shut off valve to prevent burst pipes . Even though you will be keeping your thermostat on, it's good to do this in case your furnace breaks or your power goes out, leaving water sitting in the pipes to freeze, expand, and burst.

Drain Excess Water From Appliances

To further prevent frozen pipes, make sure to drain the main water lines that run to your appliances, toilets, and sinks.

Install a Temperature Monitor

In order to keep your home from freezing, make sure to set the thermostat to 55 degrees F. As a backup, consider installing a temperature monitoring system in your home, which will alert you if your home goes below 55 degrees, putting it in danger of freezing. Also, consider installing a water monitoring system . This will monitor your pipes while you're away and alert you to any unusual activity, like a sudden increase in water pressure, which could be a burst pipe and potential flooding.

Clean Out Kitchen Appliances

Remove all food from your refrigerator and wipe down all of the surfaces. The last thing you want is to come back next year ready to relax and be faced with a fridge overgrown with mold, rotten food, and bugs. When you're done cleaning it, open the doors slightly to prevent mold growth and consider placing a box of baking soda inside for extra freshness and moisture prevention. Wipe down your oven and washer and dryer . Run vinegar through your dishwasher and leave the door slightly ajar at the end of the cycle. Lastly, drain your water heater and turn off the gas.

Put Away Outdoor Furniture

Lock up all patio furniture in the garage or shed to keep them safe from thieves, vandals, and severe weather.

Unplug Electronics and Appliances

Unplugging appliances protects your home from potential fire hazards and appliances from any power surges in case of lightning strikes.
Has Your Summer Home Had Water Damage While You Were Away?
Call Riverside Restoration Inc. so we can mitigate the water damage and dry out your home as quickly as possible. Our certified team of experts are available 24/7 to assess your damage and provide solutions to getting your home fixed as soon as possible. We can even help you ready your home for the colder months to prevent future damage!
At Riverside Restoration Inc., we proudly service the Westport, Weston, Greenwich, Cos Cob, Darien, Southport, New Canaan, Fairfield, Old Greenwich, Riverside, Wilton, CT and surrounding areas with their flood remediation and water damage restoration needs. We will handle all aspects of your restoration from extraction and drying to the rebuilding and remodeling.
Need Help with Restoration & Remediation?


Contact Riverside Restoration