We Work Directly
With Your Insurance Company
5 Tips To Prevent Water Damage In Your Laundry Room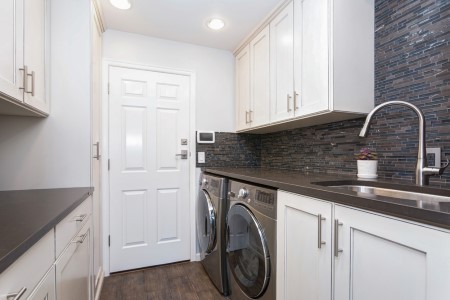 Water damage can be sneaky, especially in places like your laundry room, where plumbing issues can build up over time with a small-but-constant drip, or create large damage all at once from a broken water supply line. If the flooding isn't addressed quickly, then the stagnant water can lead to mold growth , structural damage, and unsalvageable damage to personal belongings.
Laundry Room Plumbing Checklist
The source of water damage in your laundry room may not be obvious. Some people think the water could be from a burst pipe or flooding from rain water coming up through the foundation or down from a leak in the roof. However, following these tips and conducting routine maintenance will help you pinpoint the leak source fast and prevent laundry plumbing issues in the future. 
Check the washing machine water supply lines.

The first place to look if you have a water leak is at the washing machine's supply lines. These supply lines are usually made of plastic or rubber. Although they don't rust, this material tends to deteriorate over time. Look for cracks, tears, bubbles, or blisters, which may be the source of the leak. Consider replacing your water supply lines with stainless steel lines or newer plastic or rubber hoses. If you replace your supply lines, make sure to also replace the metal washers. A good rule of thumb is that if your lines are worn down, the washers might be, too.

Consider how to set up a laundry room for optimal flood prevention.

The placement of your laundry machines makes a big difference in the prevention of water damage. Always place your washer away from the wall, as opposed to flush against it, to allow room for the supply lines in the back. If pressed up against a surface, the water supply lines might kink and cause water to back up and leak out. If you need to stack your machines, make sure to place the washing machine on the bottom. In all cases, ensure your appliances are level. A level, balanced washer will keep all its parts in place (it's important to keep the agitator centered for the spin cycle) and not spill water. 

Inspect the laundry drain and laundry drain filter.

Laundry drains are another common source of blockage from debris. If the drain becomes blocked, this can lead to large amounts of flooding –quickly. This may also lead to larger plumbing problems with your laundry. If you think your drain is clogged, also check your drain filter. Your washing machine may drain directly into a sink with a drain filter. The filter will catch any debris, grime, or particles so they don't clog your sink's drain. Be sure to check and empty the drain filter regularly so that debris doesn't build up and clog the drain.

Check the laundry sink for clogs and debris.

If the sink your laundry drains into becomes clogged, this can be a sign of possible major plumbing issues. If you don't have a drain filter, add one for an extra layer of protection. In the meantime, if water won't drain down the sink, you can try using a drain snake or a chemical drain opener. If neither of these works, it might be time to call in a professional.

Conduct routine maintenance.

Check your washer and dryer's user manuals to see how often the manufacturer recommends a plumber inspect your machines. Regularly scheduled maintenance on your machines will allow you to replace and repair parts prior to them breaking and leaking water. 
Water damage in your laundry room is preventable by regularly inspecting your washing machine and dryer. Being aware of these common flooding causes in your laundry room will help you stay prepared, avoiding future water issues.
Did Your Broken Washing Machine Cause Flooding in Your Home?
Call Riverside Restoration Inc.. Water damage emergencies happen anytime of day. That's why our certified trained professional team is available 24/7 to assess the damage and make a plan to restore your home back to pre-loss condition. We can work with your insurance company to help take the burden off of you and get your life back to normal fast. One call to Riverside Restoration Inc. at the first sign of water damage can make all the difference in the restoration of your home!
At Riverside Restoration Inc., we proudly service Westport, Weston, Greenwich, Cos Cob, Darien, Southport, New Canaan, Fairfield, Old Greenwich, Riverside, Wilton, CT and the surrounding areas with their flood remediation and water damage restoration needs. We will handle all aspects of your restoration from extraction and drying to the rebuild and remodeling.
Need Help with Restoration & Remediation?


Contact Riverside Restoration
Contact Us
If you are looking for a professional water damage restoration contractor in Westport or the surrounding area, give us a call today at 203-227-2655 or complete our online request form.