We Work Directly
With Your Insurance Company
Best Smart Devices To Prevent Fire And Water Damage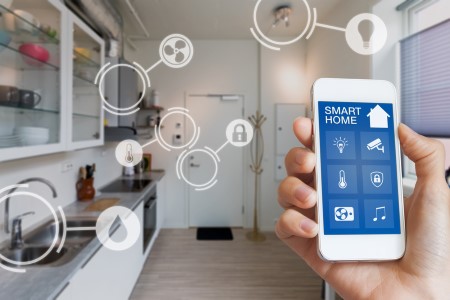 Our homes may be getting smarter every year, but they are still vulnerable to water damage, flooding , mold growth , and other natural disasters. Avoiding fire damage and water disasters in your home is now easier than ever, thanks to new and improved smart devices. Whereas 20 years ago we relied on smoke and carbon monoxide detectors, fire sprinkler systems, and sump pumps to help us avoid serious disasters, now we can use devices that alert us to issues right on our smartphones. Many smartphone apps were created for our entertainment, but these innovative technologies have been made to protect us and our properties from common causes of fire and flood.
Your everyday, more common smoke detectors and water monitors are good and will do the trick to help prevent disaster, but what if you're not home to hear the warning sounds? What if a kitchen appliance leaks, and you are not there to stop the flooding in the act to prevent greater water damage? By upgrading and using these smart devices in your home, you can save money in the long run and have greater peace of mind.
Best Leak Prevention Devices
Water damage can occur at any time, and can be caused by severe weather, leaking appliances, ice dams, or burst pipes. These smart devices can keep you a step ahead to spot the leak and stop it before it becomes a much bigger (and more costly) issue.
Best Fire Prevention Devices
Keeping your home and family safe from fires and fire damage is more doable than ever before. There are about five million preventable cooking fires each year, usually caused by someone leaving the stove on. Other appliances can have cracks in their hoses and lead to carbon monoxide leaks. Whether you're at home or away on vacation, you want to keep your home protected. These latest technologies can help add that extra layer of protection.
Nest Protect

The Nest Protect system is yet another cutting edge product from Google, costing around $119. Working with an app on your phone, this device is an improved version of a smoke and carbon monoxide detector. The most appealing part of Nest Protect is that you can buy multiple devices for any room in your house, and control all of them through one app. When you add your device to the app, you can name it, so if a device goes off, your app will alert you by color and message, saying something like, "Smoke detected in Julie's room". Having Nest Protect can help put your mind at ease, especially if you're away on vacation.

Wallflower Smart Monitor

Do you ever have those moments where you leave your house and wonder if you left the stove on? Well, wonder no more. The Wallflower Smart Monitor is built to help prevent fire damage from your most commonly used appliances. It's easy to use, simply plug the wallflower outlet into your wall and then plug your oven into the outlet. Download the Wallflower app. Wallflower will learn your cooking behaviors and then notify you if it detects something out of the ordinary. The monitor outlet will send out audible beeps inside your home and send notifications to your phone. All beeps and notifications can be adjusted and customized to your liking. The Wallflower Smart Monitor is a 220 volt plug that monitors your stove 24 hours a day. Have an old stove? No problem. There are two different versions of this outlet available. One for stoves built before 1996 and one for stoves built after. Want an added bonus? Wallflower works with your Alexa smart device. Alexa can tell Wallflower to alert others when dinner is ready or to set a timer. At $149, we think it's worth the investment.

Roost Smart Battery

Want to make your smoke alarms smarter without breaking the bank? The Roost Smart Battery can retrofit your current smoke detectors into smart smoke detectors. For $35, you can purchase Roost, and place it in your smoke alarm. In minutes, it'll connect to your wi-fi, notifying your phone if it detects anything out of the ordinary. Another perk? The battery will last up to 5 years. (And when the battery is low, it will notify you on the app. No more annoying 3AM low-battery alert chirps!)
Has Fire Damage or Water Damage Hit Your Home?
Call Riverside Restoration Inc. . Our certified experts are available 24/7 to assess your damage and provide solutions to getting your home fixed ASAP. We are prepared to help you with any amount of water or fire damage. We can even help you ready your home for the colder months to prevent future damage!
At Riverside Restoration Inc., we proudly service the Westport, Weston, Greenwich, Cos Cob, Darien, Southport, New Canaan, Fairfield, Old Greenwich, Riverside, Wilton, CT and surrounding areas with their flood remediation and water damage restoration needs. We will handle all aspects of your restoration from extraction and drying to the rebuilding and remodeling.
Need Help with Restoration & Remediation?


Contact Riverside Restoration