We Work Directly
With Your Insurance Company
When To Replace Common Appliances: Are You On Borrowed Time?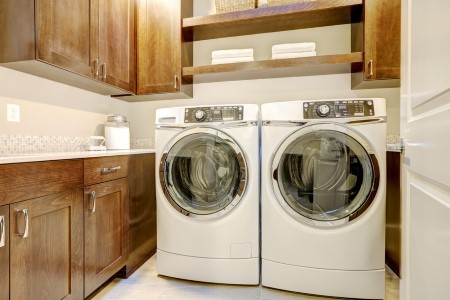 Whether or not you just purchased your CT home, or if you've lived there for many years, it may be time to replace your appliances. Knowing the age of your kitchen appliances will help you decide if they are about to give out. Keeping up on the age of your dishwasher, gas range, microwave, and refrigerator will let you know when it's time to get a new appliance.
Replacing certain appliances can also help prevent water damage that can come from cracked or broken hoses. Leaky appliances, even ones with a slow drip, can cause a great deal of damage that can lead to structural rot, mold growth, and destroyed flooring. Other old appliances can cause fires, which can lead to a complete loss of a home or property.
Knowing the age of your appliances in your home–and your vacation home–is important. The National Association of Homebuilders' "Study of Life Expectancy Home Components" helps us estimate the life cycle of an appliance using data from product manufacturers and testing labs. Of course, the life of an appliance can vary based on how often it's being used. (So that refrigerator in your vacation home may last a little longer than the one in your main house.) Use the following information to help you decide if it's time to upgrade.
Kitchen Appliances Lifespans
The kitchen is the heart of a family's home, so it's no wonder these appliances tend to be the first to need replacing! We use these appliances often–multiple times a day–so their lifespans will fluctuate based on use. Refrigerators will need to be replaced every 10-15 years, as long as their gaskets, filters and tubing are replaced (this will help prevent corrosion and water damage to your floor). Microwaves last 5-10 years, but tend to be replaced with kitchen renovations or as technology gets better. Garbage disposals last around 10 years. Electric ranges will last 15-20 years, while on average, gas ranges last up to 25. Dishwashers can wash dishes for 10-15 years, providing you check and replace the water supply tubes as needed. Regular maintenance is key to all of these appliances to help them last the test of time.
Heaters, Ventilators, and Air Conditioners (HVAC) Lifespans
With regular maintenance and replacing of parts, your HVAC system could last around 15-20 years. However, on average a furnace will last around 15 years, heat pumps 16 years, and air conditioning around 10-15. By upgrading your heating system to a tankless water heater you can double your heater's life. Tankless water heaters can last over 20 years while a gas or electric water heater lasts about 10. Your home's thermostat could last up to 35 years, but will probably be replaced beforehand as technology progresses.
Washing Machine and Dryer Lifespans
Washing machines, depending on the model, can last anywhere from 5-15 years. When installing your washing machine, ensure that it's level so that water doesn't leak out. There are many reasons for a washing machine leak . Leaking water can cause corrosion to bolts or parts of the machine. It can also cause structural rot and damage to your floor. Dryers, whether they are gas or electric, have a lifespan of 10-20 years, depending on the make and model.
Should I buy new appliances?
Old appliances may be more prone to leaking or falling apart as their parts and connections age. When repairs become too commonplace, consider investing in new appliances that may be more energy efficient and possibly save you money over time.
Did Your Leaky Kitchen Appliance Cause Water Damage in Your Home?
Call Riverside Restoration Inc. at the onset and avoid insurance delays so the mold and mildew damage to your property will be remediated and restored as quickly, safely, and professionally as possible. We can also help clean up any water damage from a burst pipe, broken appliance, or severe weather storm to prevent further structural damage or mold growth.
At the same time that you call your insurance adjuster, call us, too. We will help you navigate the thicket. By being proactive, you also will help to prevent an insurance company from recommending an undesirable contractor out of their own self-interest. As a policy holder, you have the right to choose your own contractor.
When you work with Riverside Restoration Inc., you are assured of professionalism, integrity, and fine craftsmanship. Riverside proudly serves Cos Cob, Darien, Fairfield, Greenwich, New Canaan, Southport, Weston, and surrounding CT areas .
Need Help with Restoration & Remediation?


Contact Riverside Restoration