We Work Directly
With Your Insurance Company
Fire Safety, Insurance Coverage, and Outdoor Kitchens: What Connecticut Homeowners Need to Know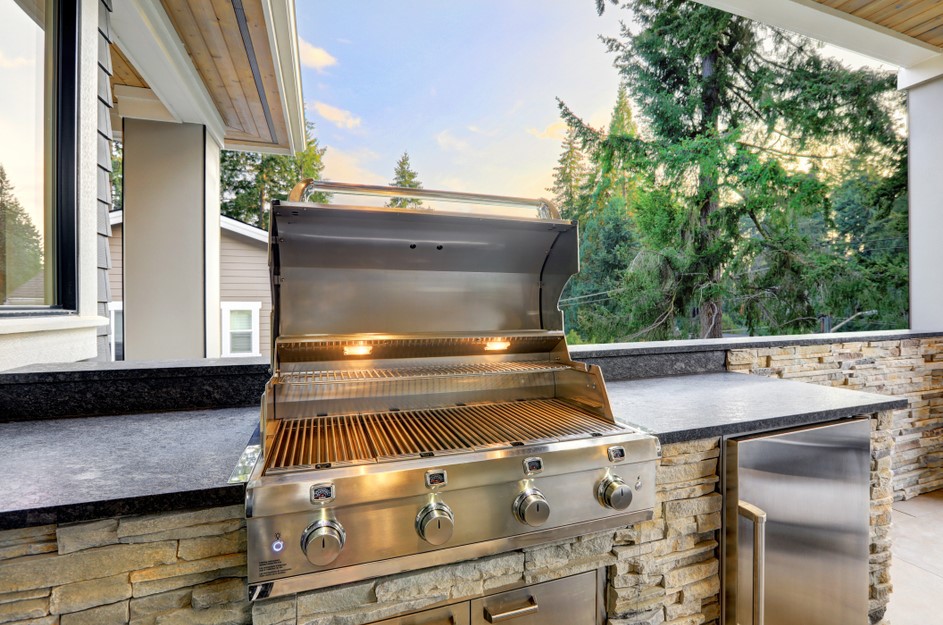 Outdoor kitchens are an increasingly popular home feature. They make it fun and easy to experiment with new recipes and host special outdoor events during the beautiful Connecticut summer. Elements like built-in grills, smokers, convenient sinks, refrigerators, prep surfaces, and stove top burners are convenient for you and your guests, and can add significant value to your home.
Cooking is the primary cause of home fires, and this risk extends to outdoor kitchens as well, as they include numerous sources of fire risk. Fires are sudden, frightening, and can cause extensive damage almost immediately. Beyond the destruction, smoke and water damage (from extinguishing the fire) can cause pervasive and even invisible issues. In this article, we explain ways that you can protect your outdoor kitchen, and what to do if you do experience a fire.
Fire Safety and Your Outdoor Kitchen
The most important part of fire safety in your outdoor kitchen should occur long before you sear your first steak. A safe design should be created with help from a professional. A high-quality outdoor kitchen design should consider:
Sufficient ventilation and insulation
Durable, heat-proof materials
Correct locations for cooking, water, and electricity
Fire safety tools like extinguishers and covers
Once you have designed and invested in an outdoor kitchen, protecting it also includes making sure that you have the right insurance coverage. To get the coverage you need, talk to your insurance agent to confirm the details of your policy. An elaborate, high-end outdoor kitchen may require extra coverage. This is very important if you have recently added or upgraded an outdoor kitchen at your home.
What to Do After an Outdoor Kitchen Fire
If you experience a fire in your outdoor kitchen, protect yourself and anyone else there, and call emergency services right away. Once the fire is out, you need to start on the road of getting things back to normal. It's critical that you find a knowledgeable, reliable fire damage restoration contractor that you can trust. Fire and smoke damage can be overwhelming and complex, so you need an expert who specializes in this type of damage in order to get your outdoor kitchen back.
Getting professional help with fire, smoke, water, and mold damage restoration is essential. When you partner with Riverside Restoration, we bring specialized tools and processes that can completely and safely restore all parts of your outdoor kitchen, including smoke damaged contents, furniture, and surfaces.
Even if the fire was small and you are faced with only smoke damage, it is still important to get help. Smoke damage can be very dangerous, and should not be cleaned up without professional help. Smoke particles can remain suspended in the air, and land on everything.These particles can eat away at surfaces, and are very toxic, containing carbon monoxide, soot, tar, and carbon dioxide.
Protect Your Health And Your Investment After An Outdoor Kitchen Fire
Smoke and fire restoration is about more than just clean-up: You will also need to make decisions about your outdoor kitchen, and work with your insurance company through the claims process. At Riverside Restoration, we can restore both your outdoor kitchen, and your peace of mind by handling all insurance company requirements. Our specialized restoration and contracting licenses and certificates allow us to work directly with your insurance company to manage issues around cost and coverage for your outdoor kitchen.
Don't let a fire stop your summertime fun. Contact Riverside Restoration to learn more about how we can help with the immediate aftermath of a fire, and how we can bring your backyard back from any amount of fire, smoke, and water damage. We are happy to help homeowners and estate managers in Cos Cob, CT Darien, CT Fairfield, CT Greenwich, CT New Canaan, CT Old Greenwich, CT Riverside, CT Southport, CT Weston, CT, and Wilton, CT.
Need Help with Restoration & Remediation?


Contact Riverside Restoration