We Work Directly
With Your Insurance Company
What Homeowners Insurance Doesn't Cover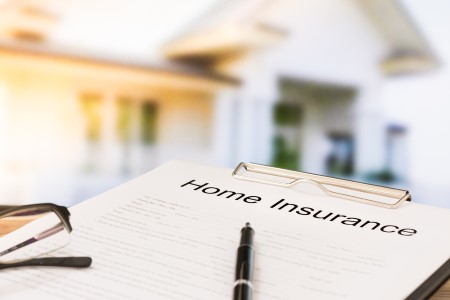 Even though homeowners insurance isn't a requirement, it's a smart investment to cover all of your bases. Living in a state like Connecticut that has annual hurricanes, flooding, and water damage makes it all the more important to ensure you can not only recoup the monetary losses, but also be able to rebuild your home and repair or replace your personal belongings.
Unfortunately, when we purchase homeowners insurance we're not always thinking about what is covered and what isn't. We might just settle on the cheapest policy or the one our insurance agent recommends without asking any questions about what is actually included in a policy…and there are many things that are not automatically covered. Read below to learn more about what your insurance covers and how to get the protection you need.
Why You Need Homeowners Insurance
Homeowners insurance is a way to give you peace of mind should any of the following be necessary to do:
Rebuild your home

If a natural disaster damages or destroys your home and property, your insurance can cover the complete rebuild of your house.

Contents cleaning and replacement

If a pipe bursts in your home and water damage ruins your personal belongings then homeowners insurance can cover the cost of cleaning your contents, as well as replacing anything that is unsalvageable. This can also cover items from fire or theft.

Personal liability coverage

If a friend trips and falls on your property or if you accidentally damage something in another person's home, your personal liability coverage within your homeowners insurance policy can cover the damages and replacement costs.
Standard Homeowners Insurance Coverage: What Actually is Covered
Even though we know what blanket things are covered, not everything that you think should be covered by your basic insurance policy is. For instance, did you know there are three main types of homeowners insurance? HO1, HO2, and HO3. Each type covers a different type of homeowner situation with different types of risks.
HO1 Insurance
This is the basic form of homeowners insurance. It covers standalone homes that are owner-occupied. This policy is also what is known as a "named-peril" policy, meaning it only covers the 10 perils listed in the policy. These usual are:
Fire or lightning
Hail or windstorms
Explosions
Riots or civil commotion
Damage from aircrafts
Damage from vehicles
Smoke
Malicious mischief or vandalism
Theft
Volcanic eruptions
If this policy feels like it covers everything you and your home will possibly encounter, then you will feel comfortable choosing this policy. However, note that HO1 homeowners insurance doesn't cover issues like flood, frozen burst pipes, or earthquakes. On top of that, some HO1 policies don't cover your personal possessions that are damaged by the named-perils listed. So even if your home is covered to be rebuilt, you might not have any coverage to replace the lost or damaged items inside your home.
HO2 Insurance
This is also a named-peril policy. HO2 homeowners insurance is also known as a broad form insurance because it covers the 10 perils listed in the HO1 policy, plus 6 more:
Falling objects
Weight of ice, snow, or sleet
Accidental discharge of water or steam
Sudden and accidental tearing apart, cracking, burning, or bulging of certain household systems
Freezing of household systems
Sudden and accidental damage from artificially generated electrical current
Unlike the HO1, HO2 policies tend to cover personal property replacement and personal liability. So if you lose your home to a fire , your insurance should cover the cost to reconstruct your home, as well as replace your appliances and personal items. And, should your house fire spread down the street and affect your neighbor's property, your insurance policy will also cover the repairs necessary to their home.
The HO2 is a solid middle of the road insurance policy to get, however, just like HO1, HO2 doesn't cover incidents like flood or earthquakes. It's important to note that water damage from a burst pipe is different than water damage from hurricane rainfall. When considering this policy ask yourself how likely your home is to be damaged by such things.
HO3 Insurance
The HO3 policy is the most common type of homeowners insurance policy. Unlike HO1 and HO2, this policy is an "open-perils" policy, meaning that it covers all types of situations that may negatively affect your home except the one exclusively listed as not covered . This is a benefit to you because the situations not covered will be plainly spelled out, making it easier to decipher if you need to purchase extra coverage or not.
Although policies can differ from insurance carrier to insurance carrier, HO3 policies usually cover the repair and replacement of:
Your home
Other structures on your property, like fences or detached garages (not covered by other policies)
Personal belongings
These policies usually cover additional living costs, like paying for a place for you and your family to stay while your home is being repaired. Other benefits of an HO3 policy are that they include replacement costs for your home. This means your insurance carrier will cover the cost to replace your home and not take depreciation into account and will not deduct it from your payout. Like HO2, this policy will also include personal liability coverage.
Since this is an open-perils policy, the HO3 insurance will list events that are not covered. These instances may include:
Earth movement, such as an earthquake, sinkhole, and mudflow
Water damage from flood, sewer backup, or water seeping in through the foundation
Demolition of your home required by law to bring it to code
Seizure or demolition by a government agency or public authority
Extra Homeowners Insurance Options: What You Should Get Covered
After deciding what coverage is right for you, the next step is to add an addendum to your insurance plan or purchasing additional coverage for the events that are not included in your main policy. You might want to consider adding the following:
Flood insurance

Even if you don't live in a flood zone, as a resident of Connecticut you are at risk of flooding from a hurricane or other natural disaster. An average claim for a 2,000 sq. foot home with only 6 inches of water is $35,000. Consider getting extra flood insurance. It may cost an average of $775 a year, but can save you tens to hundreds of thousands in the long run.

Water backup coverage

If you have HO1 or HO2 insurance, consider adding this type of coverage. It will protect you from water damage from a burst pipe, broken kitchen appliance , or other plumbing issues. However, it won't cover water issues that come from the ground up, like a sewer issues or an overflowing river.

Dwelling protection insurance

Talk to your insurance agent about adding extra insurance for the replacement of your home's structure. This will come in handy if your policy limits don't cover the cost of your house or if damage occurs to your home if contractor prices spike. Having this extra coverage will protect your finances and prevent you from dipping into your savings to rebuild your home.
Has a Flood Damaged Your Home and You Need Help Understanding Your Insurance Policy?
Call Riverside Restoration Inc. . Not only can we fix your home's water damage and dry it out as quickly as possible, but we will work with your insurance agent to help lower your out of pocket costs and make sure that you can take advantage of everything your policy covers.
Our certified team of experts are available 24/7 to assess your damage and provide solutions to getting your home fixed. We want to take the burden of cutting through the red tape off of you. This allows you to have as much peace of mind as possible as we clean, repair, and rebuild your home to its pre-loss condition. We can even help you ready your home for the warmer months to prevent future damage!
At Riverside Restoration Inc., we proudly service the Westport, Weston, Greenwich, Cos Cob, Darien, Southport, New Canaan, Fairfield, Old Greenwich, Riverside, Wilton, CT and surrounding areas with their flood remediation and water damage restoration needs. We will handle all aspects of your restoration from extraction and drying to the rebuilding and remodeling.
Need Help with Restoration & Remediation?


Contact Riverside Restoration
Contact Us
If you're looking for a remediation and restoration company in Westport, call Riverside Restoration Inc. at 203-227-2655 or complete our online request form.