We Work Directly
With Your Insurance Company
What Connecticut Homeowners Need to Know About Water Damage and Mold in an Attic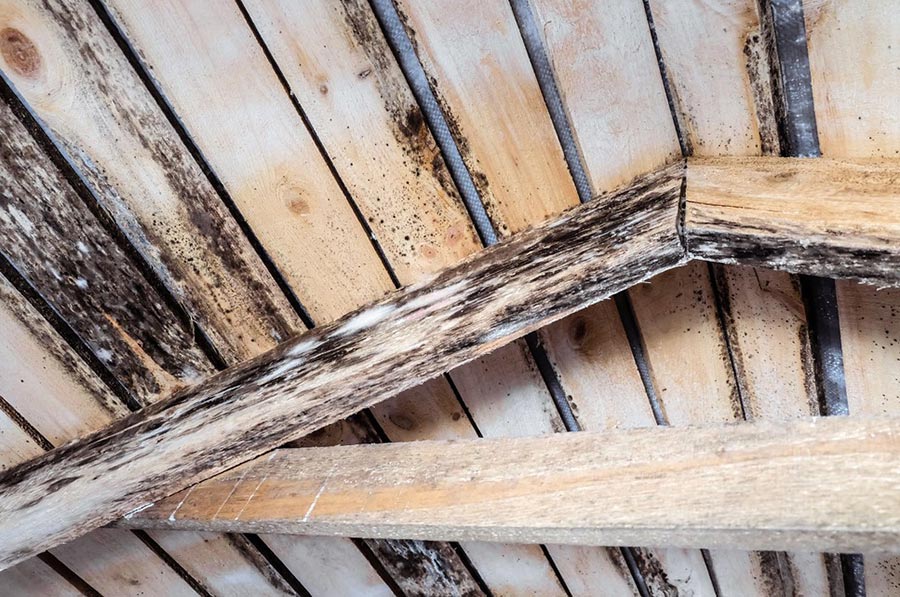 When people think about water damage, floods, leaks, and mold growth, they usually think about basements first. After all, countless Connecticut homeowners have had to deal with water damage in their basements from failed sump pumps, clogged pipes, floods, and flawed construction.
Your attic may not be the first part of your home that comes to mind when thinking about water damage. However, your attic has direct contact with your roof, which protects your home from Connecticut's variable seasons.
What Causes Water Damage in an Attic?
Just like basements, there are a lot of different things that can cause water damage in an attic.
One of the most common causes of water damage in an attic is a damaged roof. Sometimes, this damage isn't even visible from the outside. Weeks, months, or even years could pass with water entering the attic and creating a moisture problem.
Sudden storms that produce a lot of wind, rain, or snow can lead to this kind of roof damage. Watch for signs like missing shingles, tree debris on your roof, or moisture spots that appear on your ceiling.
Poor ventilation is another cause of moisture in an attic. If air can't move freely through your attic, condensation has the opportunity to accumulate on the underside of the roof. That water can then drip down onto the floor of the attic and cause mildew, mold, or wood rot.
In the winter, ice dams can create an abundance of ice and snow on your roof that is unable to drain. When the weather warms, the melting snow or ice may have nowhere to go except for into your attic. If you find that your home is prone to ice dams, it is important to take both precautionary and reactive measures to prevent water from entering your attic.
Risks of Water in Your Attic
Whether you have water from a storm, a damaged roof, ice, or poor ventilation, it is not something that can be ignored.
Mold and mildew are a serious health risk for everyone, but especially for people with asthma or allergies. Mildew can cause headaches, fatigue, watery eyes, sinus drainage, allergy symptoms, sneezing, coughing, itchiness, wheezing, and breathing difficulties.
Long term, water in your attic can also cause significant structural damage. Putting off repairs can cause far more expensive damage than just the initial water clean-up.
When to DIY and When to Get Expert Help
Sometimes, homeowners can safely remedy minor water in the attic. However, DIY solutions are often only effective in the short term, or they end up being more expensive than you expect if you don't have the experience and knowledge to effectively fix the problem.
We recommend a few things to do on your own when you encounter water in your attic. First, if it is safe to do so, try to stop the water from entering the attic in the first place. Next, place buckets or containers to catch any active leaks, and empty them consistently while you bring in professional help. It is important to stay out of moldy or damaged areas that are a risk to your health and safety.
The Benefits of Getting Professional Help
Contacting a mold remediation expert to take care of the water damage in your attic will make a world of difference in your restoration process.
When you discover water damage in your attic, it's likely that you can't see all of it. A damage restoration contractor can use tools and technologies like infrared moisture detection to determine the extent of the damage beyond what can be seen with the human eye.
A highly qualified restoration contractor will also help address any mold growth that already exists, and prevent additional mold from growing in the future.
Whether you end up needing water damage restoration, mold and mildew remediation, or both, avoid ineffective fixes, frustrating delays, and expensive DIY solutions by calling a professional.
Connecticut Homeowners Can Trust Riverside Restoration
Riverside Restoration offers Connecticut's homeowners with the water damage restoration services they need. We service communities throughout much of Connecticut, from Greenwich to Fairfield and more.
If you live in Cos Cob, Darien, Fairfield, Greenwich, New Canaan, Old Greenwich, Riverside, Southport, Weston, Westport, or Wilton, Riverside Restoration is just a phone call away.
We know that disasters never happen on anyone's schedule, which is why we also provide 24-hour emergency response.
Having the right help (right away) is incredibly important if you are dealing with mold in the attic of your home. It will protect your health, and help you recover quickly with accurate coverage from your insurance company for your losses. Contact us for professional help with these critical situations!
Need Help with Restoration & Remediation?


Contact Riverside Restoration
Contact Us
Having the right help—right away—is incredibly important if you experience mold or mildew damage. It will help you recover quickly with accurate coverage from your insurance company for your losses. Contact us for professional help with these critical situations.