We Work Directly
With Your Insurance Company
How To Remove Mold In The Attic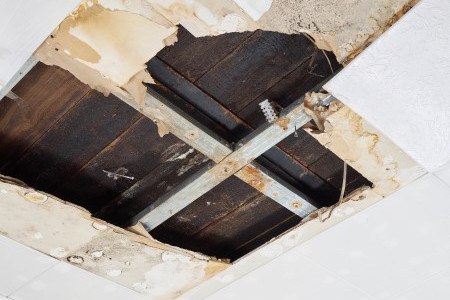 There are many ways for moisture to sneak into an attic, from ice dams and roof leaks to cracks and gaps in siding–attics are an ideal place for humidity to form and mold and mildew to grow. When mold spores come into contact with moisture, they feed off of the dampness and spread, causing massive structural damage and potential health issues.
How to Get Rid of Mold in the Attic of Your Home
As soon as mold is discovered in a house, it's important to act quickly so the mold growth doesn't spread. Attic mold forms when moisture is located in a poorly ventilated area. These improper vents can come from your bathroom, kitchen, or dryer fans. If you direct all of your vents directly to the outside of the house, this will guarantee proper venting away from the home and not upward into the attic, where hot and cool moisture collide to form the ideal breeding grounds for mold.
Another way to prevent mold in the roof is to ensure that the insulation between the attic and the roof space is adequate, without any moisture leaking from ice dams. Our clients, Jim and Beth, experienced attic mold growth. Riverside Restoration Inc. worked with their lawyer so they could sell their house, conducted mold removal, and restored the attic:
Transcript:
CALEB: This is Caleb Wright and I am here with Jim and Beth. How did you hear about Riverside Restoration Inc.?
JIM: Well, it's pretty interesting. We had a contract to sell our house, and when they did the inspection of the house we found that there was mold in the attic and it had to be remediated, so in panic I went to the internet and I started looking up mold remediation experts. I started calling around and interestingly enough Caleb was the only company that answered the phone personally. You know, when I spoke to him, he gave me such assurance that everything will be alright and we will get through this.
BETH: We were in a big time crunch because we were closing in a week so we needed to know that this was going to be done by a certain date.
CALEB: How well did Riverside Restoration Inc. work with your attorney?
JIM: That was interesting. The first thing Caleb did is said let me call your attorney because I want to understand exactly to what level we have to remediate this to pass the inspection. And he jumped right in and spoke with my attorney and was able to get some really good direction for us to go in.
CALEB: Would you recommend Riverside Restoration Inc. to your family and friends?
JIM: 100%
BETH: Absolutely.
How Do Professionals Remove Mold?
Some key ways to avoid mold in your attic are easier than you think. Doing routine checks of your home can prevent long term mold damage.
Check for a leaking roof. Roof leaks tend to be the most common cause of mold in the attic. Look for discoloration in roof joists, shingles, and materials. This usually means there is moisture present. You can also prevent water damage from the roof by regularly checking and repairing any damaged areas to your roof, including blistered, chipped, or curled shingles, broken seals, or cracked caulking, and broken chimney caps.
Provide good attic ventilation. Make sure all of your warm air vents are venting outside and away from you home. When the warm air from vents rises into the attic where cool air is, the mixture of the two temperatures condense, creating moisture. The quickest, easiest solution is to have the warm air vents properly directed to the outside. This will prevent unwanted condensation.
Check for cracks or gaps. Moisture can sneak into your home from many places, including damaged house siding, air ducts, skylights, moisture barriers, and old, sagging insulation. Replace and repair these areas of your home as necessary to prevent moisture from getting in.
Need Emergency Restoration Services to Remove Mold From Your Attic?
Call Riverside Restoration Inc.. Don't let mold prevent you from closing on your house. We will work with your insurance company or lawyer to meet your needs and get your home back to normal–fast. We are available for any emergency, 24 hours a day, 7 days a week.
Riverside Restoration Inc. wants to eliminate the stress. We coordinate the entire restoration process as a courtesy to our customers. Our team will plan and execute everything from cleanup, through repairs, all the way to presenting the claim to your insurance company. We understand how important it is to you that every phase of the project is completed properly. It's why we also make it our top priority.
Proudly offering services in Darien, Fairfield, Greenwich, Southport, Westport, and the surrounding areas .
Need Help with Restoration & Remediation?


Contact Riverside Restoration
Contact Us
If you are looking for a professional mold removal contractor in Westport or the surrounding area, give us a call today at 203-227-2655 or complete our online request form.