We Work Directly
With Your Insurance Company
How A Fire Can Cause Water Damage To Your Connecticut Home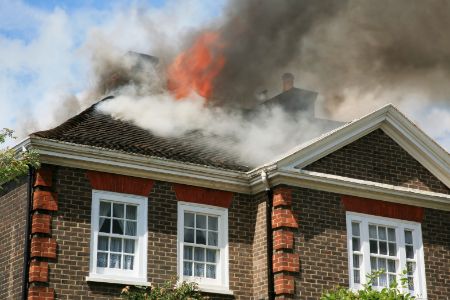 A fire at your home is one of the scariest, most unsettling things that your family will ever experience. Even after everyone is safe and the fire is out, you may feel overwhelmed and confused. Where should you start with your homeowners insurance, the clean-up process, and getting your home back to normal? The problems can be extensive - often, the water used to extinguish a fire can do as much damage as the fire.
At Riverside Restoration, we have been helping Riverside, Westport, Greenwich, Weston area homeowners with both fire and water damage for many years. Here are our insights on the ways that fires can actually cause water damage to your home, and how you can start the process of restoring your home after a disaster like this.
Where to Look For Water Damage After A Fire
During the process of putting out a fire, the water and chemicals used to extinguish it will damage your home and belongings. Fire hoses are very destructive due to the amount of power and pressure they provide. Sprinkler systems can be less damaging: They turn on immediately, stopping fire damage quicker with less force. However, both methods can leave behind a big mess.
After putting out a fire, the residual water spreads almost everywhere, which can cause mold to grow. Mold spores will begin to multiply in your home within as little as 24 hours. Eventually, mold can destroy building materials like drywall, flooring, and wood, damaging the actual structure of your home.
In order to protect your family (and your investment), you need to check your home carefully and take quick action. Here are the parts of your home that you should inspect for water damage after a fire.
Drywall: Wet drywall can swell and become soft, although you might not be able to see this damage right away. Professional tools like moisture meters may be needed to get an accurate picture of the level of damage.
Flooring and Subfloors: Water always flows down, so floor damage is almost a guarantee after a house fire. Wood flooring materials, including the subfloor structure, can swell and buckle, and will quickly start growing hidden mold.
Ceilings: Ceiling damage is most common if a fire occurred in an upper area of your home. Again, water flows down, and can collect in the ceiling of lower floors. This often invisible problem will lead to bowing, cracking, leaks, and mold and mildew.
Electrical and Plumbing Systems: Water and electricity don't mix! After a fire is extinguished in your home, water can collect in electrical circuits and outlets. Additionally, pipes, hoses, and electrical circuits can all be damaged by the extreme heat from a fire. If they are not inspected and repaired, you will face more leaks and dangerous fire hazards.
Structure and Insulation: If the structure and insulation of your home has been exposed to water, you may be dealing with mold and even wood rot if quick drying, restoration, and repair actions are not taken.
How To Protect Your Family After A Fire: Professional Fire And Water Damage Restoration
If you are faced with a fire in your home, the most important thing to do is get your family to safety and call for emergency help. Next, contact your insurance agent. The third step should be to get professional help from an experienced disaster restoration contractor.
If you don't get immediate help with fire and water damage in your home, the damage will spread quickly and become worse. Fast action can stop mold growth before it starts. This is critical as mold can cause deterioration throughout your home, and is very dangerous to your family's health. A professional restoration contractor will come to your home right away, make a thorough inspection, assess the issues, create a restoration plan, and then start the clean-up process.
Riverside Restoration has the knowledge, experience, tools, and team members needed to make quick, complete work of any fire or water damage you may experience. Part of our experience includes the ability to successfully work with your homeowners insurance provider to manage your claim.
Don't go through this scary, overwhelming process alone. Let us help you, and you will feel great knowing your home will be restored to its original condition, and your family will be safe and secure once again.
Need Help with Restoration & Remediation?


Contact Riverside Restoration