We Work Directly
With Your Insurance Company
7 Best Smart Home Upgrades For 2022: Technology to Protect Your Connecticut Home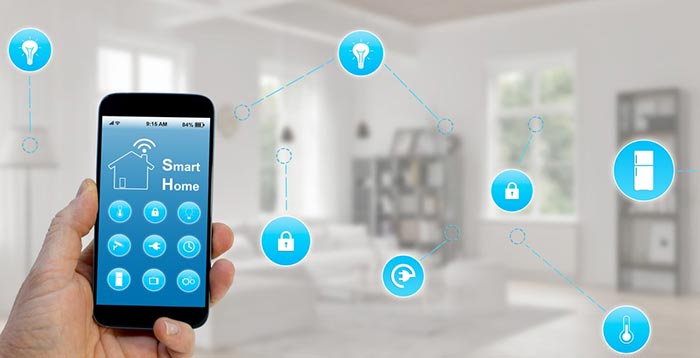 Gone are the days when homeowners relied solely on things like smoke and carbon monoxide detectors, sprinkler systems, and sump pumps to prevent things like water or fire damage.
Most of these 'old-school' solutions were only effective if you were actually home to hear the warnings. Now, technology lets us use smart home apps to get alerts and updates in real time, not after it's too late to mitigate any damage that's to come. Let's take a look at 7 of our favorite apps and how they can keep your Connecticut home protected from leaks, water, fire, and smoke damage in 2022 and beyond.
Water Leak Detectors
Water damage can be both devastating and expensive to restore. With these apps, homeowners can stop small problems early on before they become huge problems.
1) Ring Alarm Flood and Freeze Sensor
This is one of the most inexpensive insurance policies you can buy against water damage, and it's wallet-friendly at only $35. (Full disclosure: it comes with an initial investment of around $139 to purchase Ring Alarm Security System for it to work.)
This device can detect water based on where it's installed or when temperatures dip below 40 degrees Fahrenheit, and will send alerts to your smartphone. It spots small leaks that would otherwise go unnoticed that can lead to huge problems like excessive mold growth and flooding.
2) Dome Home Automation Water Shut-Off Valve
Especially if you're away from home for extended periods whether on vacation, business, or spending time at your second home, this device provides the kind of peace of mind that lets you sleep at night.
When it senses a leak, a burst pipe, or flooding with its Z-wave technology, it automatically shuts off your main water valve, and then sends you a smartphone notification.
3) Smart Home Water Monitor
Leaks from a dishwasher or under a sink are easy to detect without a smart app because you'll soon notice if a pool of water forms where it shouldn't be. Leaks in walls due to frozen or leaky pipes however often go undetected for months, if not years, and are responsible for things like mold growth and structural damage.
StreamLabs' Smart Home Water Monitor not only notifies you if an appliance or sink is leaking, but also alerts you when it detects moisture inside your walls. It has a clever feature that lets you select from "home" or "away" modes which tracks your habits and learns to be more sensitive when you're not at home.
4) Wally Sensor
Wally Sensor is a pocket-sized device that you can attach to windows, doors, or appliances and detects things like water, temperature, and humidity. It senses when windows or doors have been left open as well and is enormously effective in preventing mold and mildew damage.
Security & Fire Prevention Devices
5) Nest Protect
This is the brainchild of Google and works with an app you download to your smartphone. It's designed to be the smarter, more effective cousin of smoke and carbon monoxide detectors. Not only does it detect these things and alert you to them, but the app also allows you to buy and install multiple devices and control all of them via one app on your phone.
6) Wallflower Smart Monitor
Trying to remember if you left the stove on after you've left for the day (or week or month) is the absolute worst. Wallflower is one of the most innovative products on the market today. It allows you to plug your stove (or other commonly used appliances) into a Wallflower outlet, and then plug that into your wall socket. The device "learns" your cooking habits and notifies you if it detects behavior that's out of the ordinary. With highly customizable settings, it can beep inside of the home while you're there or beep your smartphone while you're away.
7) Roost Smart Battery
If you don't want to install new devices or aren't willing to incur the expense of more sophisticated monitoring systems, Roost Smart Battery is an excellent alternative.
The Roost Smart Battery can transform your existing smoke detectors into smart detectors. The battery— which can last up to 5 years – connects to your Wi-Fi and sends an alert to your phone if it senses anything out of the ordinary. (It will also notify you on your smartphone when the battery is getting low.)
Calling In The Experts
If you have suffered water or fire damage and are looking for a restoration expert, we'd love to talk to find out how we can help. Riverside Restoration is a trusted partner for remediation and restoration services in Westport, Weston, Greenwich, Cos Cob, Darien, Southport, New Canaan, Fairfield, Old Greenwich, Riverside, Wilton, and surrounding areas in Connecticut.
We'll handle all aspects of your restoration from extraction and drying to rebuilding and remodeling. Protect your home by calling us today!
Need Help with Restoration & Remediation?


Contact Riverside Restoration
Contact Us
If you're looking for a restoration company in the Westport area, call Riverside Restoration Inc. at 203-227-2655 or complete our online request form.