We Work Directly
With Your Insurance Company
5 Smart Home Devices To Automate Your Home For Winter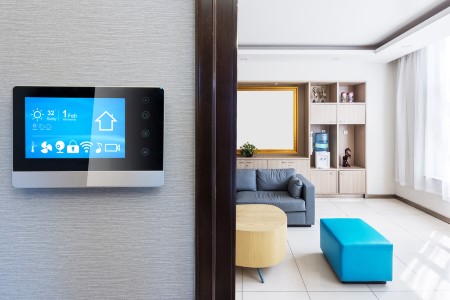 Winter months bring shorter days and longer nights, cold temperatures, and unpredictable weather in Riverside and surrounding areas. While winter can be difficult to deal with at times, it's important to winterproof your home against the elements. By automating with smart devices throughout your household can help!
Thanks to different smart devices, there are a number of ways to avoid things like burst pipes or fire damage. We've put together a list of our favorite home smart devices for winter of 2020.
A water leak detector to help prevent frozen pipes

In Connecticut, we deal with frozen temperatures on a regular basis during the winter months. Even with the best laid plans, pipes can burst and cause major flooding to your property. Have a plan B in place to warn you of flooding. Accomplish this by having a system to automatically shut off your water when flooding or burst pipes, are detected.

Smart Thermostats

Smart thermostats are a wonderful way to keep your utility bills to a minimum AND allow you to control the temperature in your home from anywhere – all from an app on your phone. The best part of having a smart thermostat in the winter months is having the ability to turn your heat on before you enter your home. You can set the thermostat to detect when the outdoors hits a specific temperature, which will cause it to kick in and start heating your home – making it as comfortable as possible for your return. There are several smart thermostats on the market today that can work with your existing heating system.

Alexa Speaker

Amazon Alexa now comes in many different forms. Standard Alexa that we all know and love, an Amazon Dot, and other versions of the smart speaker are available for purchase. This speaker allows you to stay up to date on the most recent weather forecasts. This includes any severe weather reports that may creep up without warning.

Alexa can also tell you how warm you need to dress for the temperature outside? All you have to do is ask her what the weather is like! Alexa can also work with your smart thermostat if compatible.

Smart Lights and Timers

Smart lightbulbs can be used in any light or lamp and hooked up to an app on your smartphone. These bulbs can also be put on a timer, allowing you to set when lights turn off and on, regardless of if you are home or not. This is perfect for winter nights when the sun sets earlier in the day. These timers are also perfect for holiday light displays – never worry about turning your lights off or on, just set the timer once and forget about them for the rest of the season.

Security Systems

Security systems are another tool that are great for the long winter months. As the sun sets earlier, homes can become prime targets for burglaries under the cover of darkness while individuals are at work. With a security system, you have the ability to see who is at your door (if your system has cameras), alert the police or other emergency services, and even turn off alarms if one is triggered accidentally – all through an app on your phone.
How Riverside Restoration Inc. Can Help During the Winter
While all of these devices are designed to make winter a little more bearable and easier to handle, accidents happen. If you experience water or fire damage and are in the Westport, Weston, Greenwich, or other surrounding areas, Riverside Restoration Inc. is here to help.
We have teams standing by 24/7 to help with flood , fire , and mold restoration services – contact us today for more information on how we can help with disaster repair needs.
Need Help with Restoration & Remediation?


Contact Riverside Restoration