We Work Directly
With Your Insurance Company
10 Steps To Winterizing Your Vacant Home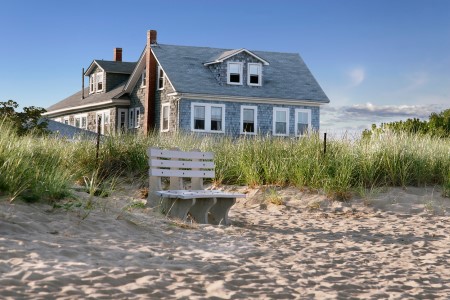 When the warm summer days turn into the crisp days of fall, it might be time to leave your vacation home behind. If you are planning to leave your summer home, rental, or even your primary home for winter, make sure you winterize the house safely and securely, so it's prepared for the cold winter months ahead.
10 Steps to Winterize Your Vacation Home
Properly sealing up and winterize your empty home can prevent mold growth, water damage, break-ins, and fire damage .
What should you set your thermostat to when winterizing?

Before you leave, your first step is to turn off the air conditioning and reset the thermostat to heating. Even though you won't be in the house, you will need to set the thermostat to heat starting at 55 degrees Fahrenheit to prevent burst pipes and other common causes of water damage . 

Turn the main water shut off valve.

Turning off the source of water to your pipes will help with flood prevention. Drain your toilets, and open up your faucets. Keep the faucets open to prevent a buildup of pressure that could lead to a burst pipe. A professional can help you winterize your pipes if you are unsure how to do so.

Know how to turn off the gas line.

Shutting off the gas line will prevent gas leaks, explosions, and fires.

Turn off and unplug everything.

From the appliances in the kitchen to the television in the bedroom…unplug everything before you leave to make sure there are no electrical-related incidents, like appliance shortages and fires.

Check sump pump valve.

Test your sump pump to make sure it's working just in case there's a natural disaster or severe weather and the pump needs to push water away from your home.

Close up fireplace.

Make sure the flue or damper in your fireplace is closed up tightly so no snow or critters can come through into your house. 

Clean your gutters.

This step may be missed by many, but it's important to double check that your gutters and downspouts are cleaned prior to leaving for the winter. As snow melts and refreezes on your roof throughout the colder months, if that water can't freely flow down into your gutters because they're clogged, then ice dams can form . Ice dams can create roof damage that causes leaks, flooding, water damage, mold growth, and structural damage. 

Clean out your fridge.

Take all perishable items with you for the season. If left behind, by the time you get back into the house you will be dealing with rotten food and mold to clean up, not to mention the smell. Place anything non-perishable in air-tight sealed containers and store them in a dry, high area. This will prevent the non-perishables from being accessible to critters and bugs, and keep it in a safe place should any water come into your home. 

How to make you house secure.

Is your summer home is in an area prone to hurricanes or other natural disasters? Consider boarding up your home and wrapping all furniture. Make sure all outside furniture is placed indoors and secured. Arm your home with a security alarm and set it prior to leaving. Make sure your windows and doors are all locked tightly. 

Tell your neighbors.

Finally, tell your neighbors of your plans to leave and when you're coming back. Friendly neighbors who stay in that area year-round will be more than happy to keep an eye on your home while you're away. If you have any living plants in the house, ask a neighbor to water them while you're gone. If you prefer, take the plants with you so they don't die. 
Has Your Summer Home Suffered Water Damage?
Call Riverside Restoration Inc. so we can mitigate the water damage and dry out your home as quickly as possible. Our certified team of experts are available 24/7 to assess your damage and provide solutions to getting your home fixed as soon as possible. We can even help you winterize your home for the colder months to prevent future damage! 
At Riverside Restoration Inc., we proudly service the Westport, Weston, Greenwich, Cos Cob, Darien, Southport, New Canaan, Fairfield, Old Greenwich, Riverside, Wilton, CT and surrounding areas with their flood remediation and water damage restoration needs. We will handle all aspects of your restoration from extraction and drying to the rebuilding and remodeling.
Need Help with Restoration & Remediation?


Contact Riverside Restoration