We Work Directly
With Your Insurance Company
How To Prevent Water Damage To Your Kitchen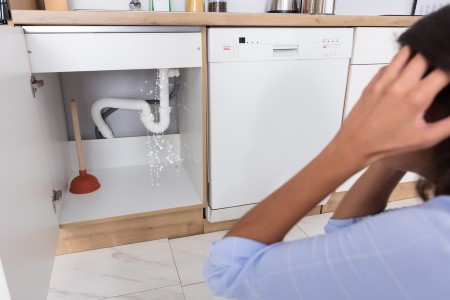 When water damage occurs in a home, our first thoughts are that there must be a burst pipe or rain got in after stormy weather. However, flooding can happen from something not only inside your home, but preventable with regular maintenance: leaking appliances in your kitchen. With sinks, refrigerators, freezers, dishwashers, and exposed pipes, coupled with how often we use these appliances, there are ample opportunities for leaks. In fact, broken kitchen appliances are one of the most common causes of water damage .
Flood Prevention From Water Leaks in Your Kitchen Appliances
Even if a hose or pipe has a small drip, over time that drip can lead to massive water damage, causing structural damage and growth of mold and mildew. Use this checklist to make sure your appliances are in working condition and help with future flood prevention.
Check the manual for each kitchen appliance. Each appliance has different manufacturer recommendations for routine maintenance. The manual tells you how regularly to check or replace different parts of your appliances. In between inspections, keep an eye out for puddles of water under and around your appliance, as well as dampness, mildew, and mold growth .
Inspect all gaskets and seals. Improperly sealed appliances can leak water due to condensation and moisture build-up. These broken seals can cause your appliances to work harder, cutting the appliance's life, and raising your electric bill. Repair or replace any gaskets or seals that have cracks, gaps, or tears.
Check the flexible water supply tubing. Water supply tubing is an important part of many appliances, like your dishwasher, ice maker, and refrigerator. Although flexible supply tubing is great for not rusting compared to other types of pipes, it tends to have a shorter shelf life. It can crack, deteriorate, break, and burst. Repair and replace tubing as necessary. For longer lasting tubing, consider replacing it with stainless steel piping. Considering altering the length of the tubing if it's kinked or becomes easily disconnected. If it's too long or too short, this can affect the effectiveness of the tubing.
Make sure all appliances are level. When your appliances are being installed make sure they are level and balanced. Appliances that are not level can work improperly and leak water. A simple fix, like propping up one side of the appliance with a shim to level it out, can save you major hassle and money later.
As with most types of water damage, prevention is key. By following these steps, you should be able to catch issues before they occur and keep your kitchen appliances working.
Does Your Kitchen Have Water Damage From Broken Appliances?
Call Riverside Restoration Inc. We are a certified water damage restoration company that is available 24/7 to restore your home back to pre-loss condition. Broken and leaking kitchen appliances can cause great structural damage. Calling us within the first few hours of your flood can help prevent further water damage and mold or mildew growth. One call to Riverside Restoration Inc. at the first sign of water damage can make all the difference in the restoration of your home!
At Riverside Restoration Inc., we proudly service Westport, Weston, Greenwich, Cos Cob, Darien, Southport, New Canaan, Fairfield, Old Greenwich, Riverside, Wilton, CT and the surrounding areas with their flood remediation and water damage restoration needs. We will handle all aspects of your restoration from extraction and drying to the rebuild and remodeling.
Need Help with Restoration & Remediation?


Contact Riverside Restoration
Contact Us
If you are looking for a professional water damage restoration contractor in Westport or the surrounding area, give us a call today at 203-227-2655 or complete our online request form.