We Work Directly
With Your Insurance Company
Do You Need Separate Structure Coverage With Your Homeowners Insurance Policy?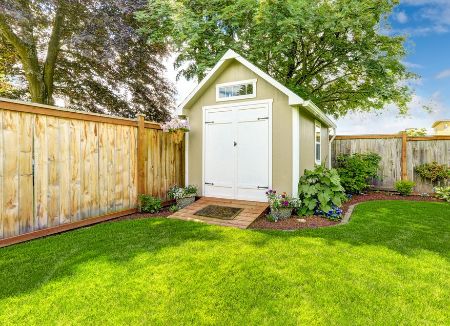 Having a guest house makes hosting easy, and a large covered patio is a wonderful place to relax. However, are you certain that you have the right homeowner's insurance coverage for these and other valuable structures on your property?
We all know that insurance is a necessity, but many of us have heard scary stories about coverage gaps resulting in expensive problems. To prevent problems like this, be sure that you have the right policy for your needs. One part of homeowner's insurance coverage that you should understand is separate structure coverage. In this article, we will explain what this coverage is, the types of damage it will cover, the types of damage it won't cover, and how to get help if special parts of your property are damaged.
What is Separate Structure Coverage?
A separate structure is anything you have built on your property that is not permanently attached to your house. When reviewing your homeowner's insurance policy, it should be listed in a section called separate structures coverage. It offers protection for these unattached buildings and other structures on your property.
What is considered a separate structure?
Here are some examples of common separate structures.
A detached garage, studio, office, or shed
A detached patio, including covers and gazebos
Driveway, fences, and mailboxes
A guest house or pool house
What does a separate structure policy cover?
Each policy is different, but here are some common forms of damage that separate structure insurance will usually cover:
Falling trees or other objects
Fire and smoke damage
Weather damage from hail, wind, and lightning
Theft and vandalism
What is not covered by separate structure insurance?
The separate structure coverage in your homeowner's insurance policy typically will not cover the following sources of damage.
Earthquakes
Floods
Gradual water damage, such as from a slow, long-term leak
Damage from pests
Normal wear and tear
If you live in an area that is prone to flooding, it is possible to add separate flood insurance to protect all parts of your property - talk to your insurance agent if you think you are at risk.
How To Get Help if Your Connecticut Garage or Guest House is Damaged
The first step in getting help is prevention: It's critical that you check in with your insurance agent to make sure that your policy adequately covers all features of your property. This is particularly important after you have built new structures or otherwise improved your property. Major water or fire damage to any uninsured structures could lead to costly repairs if you don't have the correct coverage.
The next step is to get professional help with any fire, smoke, water, or mold damage you experience. These types of damage can be very dangerous to clean up yourself. When you call for professional help, experienced technicians will assess the damages (including hidden damage like moisture that you can't see), talk you through the process, and answer all of your questions.
Prior to starting the actual restoration process, the Riverside Restoration team will create a work plan to ensure we are able to restore your property as efficiently as possible, with minimal interruption to your household. We have access to specialized tools and processes that can completely and safely restore all parts of your property, and their contents.
Additionally, we will work directly with your insurance company to make the claims process as efficient and fair as possible. Riverside Restoration strongly advocates on our customers' behalf when it comes to getting the full benefits offered by your insurance coverage.
From a patio fire to a weather-damaged pool house, Riverside Restoration will help you get back to enjoying all parts of your home again. We serve many areas in and around Westport, including Riverside, Weston, and Greenwich. Contact us today to learn more about how our detailed, professional restoration services can protect your property and your loved ones.
Need Help with Restoration & Remediation?


Contact Riverside Restoration