We Work Directly
With Your Insurance Company
Preventing and Repairing Water Damage in Vacant Vacation Homes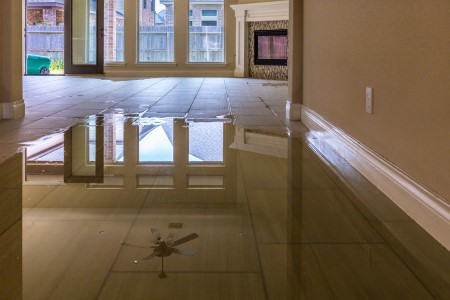 If you are lucky enough to own a second home, it's probably a great source of happy memories - when you have time to use it. Whether your vacation home is on the beach, in the country, or in a busy city, it's likely that it can be empty for extended periods of time. These periods of vacancy require extra maintenance to keep your vacation home in great shape, and ready for your next visit. One issue that every second home owner needs to consider carefully is water damage.
It's one of the three leading causes of property damage, but thankfully it's also the easiest to prevent. To stop problems before they start, the first thing you should consider is the potential sources of water damage in your vacation home. They can include:
Plumbing issue like leaks or burst pipes
Appliance failures
Rain and snow intrusion
Flooding
Next, let's consider prevention strategies. If you are going to be away from your vacation home for a long period of time, there are two options for protecting it from water damage.
Option One: Remove It
You can have the water main to your house turned off, and all plumbing and appliances drained and prepped by a plumber or other contractor. Aside from bathrooms and kitchens, don't forget your garage, basement, and laundry rooms. Remember to have any exterior water lines drained - such as the sprinkler system or other outdoor water features.
Option Two: Maintain It
You can leave the water on at your vacation home, but this option comes with a few extra chores and expenses. You need to make sure that you are keeping your home heated properly, and have a staff member or neighbor checking all water sources periodically.
With either option, water damage can unfortunately still happen. Rain water can get into a house where the water line is turned off, and a leak can start in a maintained home right after your staff member leaves for a day or more. Because it can go unnoticed for hours or days or even months, water damage in a vacant vacation home can cause huge amounts of damage.
When your vacation home is unoccupied, even for a short time, a small water leak can spread, get worse, and cause major destruction. There's the water damage itself, and then secondary issues like mold. It's possible for mold to start growing in less than 48 hours on building materials, furnishings, and household items when enough moisture is present. In fact, you don't even need a flood or leak for mold to start - high humidity levels are enough. Once mold is present, professional remediation is essential to protect both your loved ones and your home.
Get Experienced, Expert Help With Water Damage And Mold Remediation At Your Connecticut Vacation Home
Water damage at your vacation home can come from many sources, and can fall into many categories, each with different hazards. It can also cause more damage the longer it is left alone. From mold growth to even structural damage, water damage compounds, and must be addressed right away. Additionally, many sources of water damage contain dangerous viruses and bacteria - it's not something that you or your household staff can clean up by yourself. The safest solution is to hire a professional water damage restoration contractor that can start work immediately.
At Riverside Restoration, we have advanced training and many years of experience. We know how to use specialized equipment like high-powered water extraction vacuums and water pumps, industrial blowers,and dehumidifiers to get all of the water out of all parts of your home. As mold remediation experts, we also have the tools and products needed to kill mold spores, and know how to safely remove mold-affected materials completely from your home.
Protect Your Investment (And Enjoyment) With Help From Riverside Restoration
Water damage is an issue that many homeowners will eventually face: Because there can be so many sources, it is incredibly common. It's the top preventable cause of damage to American homes, with one in every 55 homes having a water damage claim on their homeowner's insurance each year. Vacation homes are at greater risk of water damage when they are empty for long periods of time. When no one is there to see it or stop it, the amount of water damage from a tiny leak can become huge.
It's important that you do your best to prepare your home in ways that will avoid water damage, but not all problems can be prevented. If you are faced with sudden or long term water damage in your vacation home, contact Riverside Restoration today. We will use our expert knowledge and immediate response teams to get you back to making memories at your Connecticut vacation home right away.
Need Help with Restoration & Remediation?


Contact Riverside Restoration