We Work Directly
With Your Insurance Company
How To Avoid Big Mistakes In Your Homeowners Insurance Coverage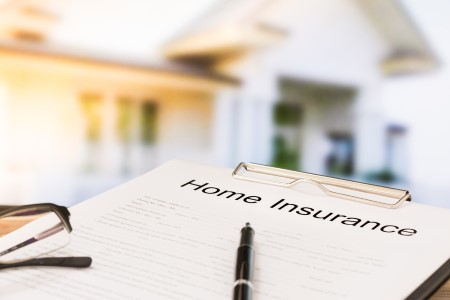 Insuring your home is a smart step in protecting your investments, especially if you own a home in a state like Connecticut that has annual hurricanes, flooding, and water damage . Having the right homeowners insurance coverage means you'll not only be able to replace your belongings, but also repair or rebuild your home.
When people buy a home, they may buy homeowners insurance thinking they're getting a good deal, and not looking at what is covered and what isn't. Read below to learn more about the 5 biggest mistakes people make when purchasing homeowners insurance coverage and how to avoid them.
Under-insuring your home

One of the biggest mistakes homeowners make when purchasing insurance is not insuring their home for enough money to completely rebuild their home should it be destroyed. In fact, about two-thirds of all homes are underinsured by an average of 18%. So a house that cost $500,000 to replace would be short by $90,000! The reason for this mistake is that many people insure their home for what they purchased it for, or what it currently is worth. However, whenever you insure your home, you're insuring it for future market value and future rebuilding prices. And if your Connecticut home is leveled in a hurricane and you need to rebuild, the cost of labor and materials is bound to soar to reflect demand. Use a cost rebuilding calculator or hire a professional to determine how much you should actually insure your home for in case of a disaster.

Understanding homeowners insurance coverage vs. cost.

Another mistake people make is they pick the least expensive insurance after receiving multiple quotes. However, not all insurances are created equal. Many homeowners don't check to see why the cheapest coverage cost so much less. Does the policy cover the full replacement value or your home? Does it include hurricane insurance? Are your electronics covered or do you need to add on a special policy?

Is flooding covered by home insurance?

Flood insurance is not standard in home insurance policies. If you're not directly in a flood plain, many insurance agents won't offer it to you automatically. Even if your house and property is not located directly near water, it's worth considering getting some type of flood insurance coverage for your home's protection.

If a hurricane hits the east coast, inland rivers can still overflow from heavy rains causing your home to flood. More than 20% of flood insurance claims are from homes outside of flood zones. Only 5 inches of water in your home can cause up to $25,000 in damages. The average flood insurance claim is $30,000 for a 2,000 square-foot home that has only 6-inches of water. Consider researching flood insurance backed by the National Flood Insurance Program (NFIP). NFIP policies cover homes up to $250,000 and contents up to $100,000. If you have a higher end home or a lot of valuables, consider adding on private flood insurance. This covers homes up to $500,000, including rebuilding your property's structures like swimming pools and detached garages.

Is sewage backup covered by homeowners insurance?

Many people don't have sewage backup added to their insurance because it's not something you want to think about. However, if your home is hooked up to the city sewer, and the city has a backup in the pipes and it overflows into your home, you may not be covered by your standard insurance. Sewage flooding, aka black water, is filled with pathogens and bacteria that can contaminate your home and possessions. It also creates more damage than a regular leak from a sink or kitchen appliance . Removing your damaged items and cleaning out the black water requires special care and equipment for health and safety purposes. It can also be more costly. Sewage backup insurance is a low-cost add-on that can save you a lot of money should anything happen.

Knowing how much personal property your insurance covers.

Just like homeowners tend to undervalue their home on insurance, the same goes for their personal property. People tend to value their personal items like televisions, furniture, and kitchen appliances based on how much they purchased them for, not for how much they will cost to replace. Consider adding 25% to your current items' value or consult the replacement calculator for a more accurate estimate. For higher priced items like jewelry or antiques, it's recommended getting them appraised. Make sure you provide the paperwork and pictures to your insurance company.
Do you need a professional restoration company to work with your insurance agency?
Call Riverside Restoration Inc. . Our team of restoration professionals will fix your home's water damage and dry it out as quickly as possible. We'll work with your insurance agent to help lower your out of pocket costs and take receive all policy coverage.
Our certified team of experts are available 24/7 to assess your damage and provide solutions to getting your home fixed. We'll take the burden of cutting through the red tape, providing you peace of mind as we clean, repair, and rebuild your home to its pre-loss condition. We can even help you ready your home for the warmer months to prevent future damage!
At Riverside Restoration Inc., we proudly service the Westport, Weston, Greenwich, Cos Cob, Darien, Southport, New Canaan, Fairfield, Old Greenwich, Riverside, Wilton, CT and surrounding areas with their flood remediation and water damage restoration needs. We will handle all aspects of your restoration from extraction and drying to the rebuilding and remodeling.
Need Help with Restoration & Remediation?


Contact Riverside Restoration