We Work Directly
With Your Insurance Company
Bathroom Flood Prevention Tips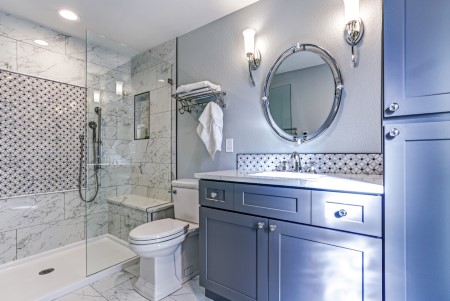 Bathrooms are one of the most commonly used rooms in a house that are filled with ways that can cause damage in your home. From water leaks to mold growth , the bathroom is a hotbed for potential water damage, flooding , and structural damage. Follow these tips to avoid water damage in your bathroom.
Prevent Bathroom Water Damage
Place bath mats on the floor.

One of the easiest ways to prevent water damage is by covering your bathroom with bath mats to prevent excess water from leaking outside of your shower or tub.

Broken tile repair.

Repair or replace all broken, cracked, or chipped tiles on your bathroom's walls and floor. Even tiny cracks allow water to seep behind the tiles and under the walls and floor. Also fix grout cracking between tiles, or along your shower and tub to prevent mold and mildew growth and water build-up.

Test all bathroom valves.

This includes you shower valves that control temperature and the flow of water into your shower, toilet valves that allow water to flow in and out of the tank, and sink valves that allows water to flow in and out of your sink. Check for water and discoloration around each of these, as those are signs of a leak. 

Watch out for clogged bathroom sinks.

If your sink is draining slowly, that could be a sign of a clog. To try a home remedy, pour a mixture of white vinegar and baking soda down the drain. If that doesn't work, you might need to call in a plumber to snake out the pipe.

Consider upgrading your bathroom fixtures.

About 40% of your annual water consumption comes from your toilet alone. Making sure your toilet and its parts are newer will help reduce the amount of water you use. Upgrading your shower head and sink faucet can also help reduce water waste and leakage.

Only flush toilet paper.

This may seem like a no brainer, but there are some people who still try to flush diapers and sanitary products down their toilets. Older pipes (and even newer ones) can't handle the pressure and bulk of these items, and they can get stuck, causing a clog and overflow. Use the trash bin and you will be less likely to have a dirty water situation in your bathroom. 

No exhaust fan in bathroom?

Consider installing one. Exhaust fans are crucial to preventing moisture buildup on and in your walls, ceiling, and floors. Exhaust fans pull the moisture from the air while you're taking a shower, steam, or soak in the tub. This helps prevent mold growth and bubbling up drywall. You can also use a dehumidifier to give your fan extra help if it's an older model.
As with most types of water damage, prevention is key. By following these steps, you should be able to catch issues before they occur, and keep your bathroom mold and mildew free.
Is Your Home Having Mold Growth Issues?
Call Riverside Restoration Inc.. We are a certified water damage restoration company that is available 24/7 to restore your home back to pre-loss condition. Broken and leaking kitchen appliances can cause great structural damage. Calling us within the first few hours of your flood can help prevent further water damage and mold or mildew growth. One call to Riverside Restoration Inc. at the first sign of water damage can make all the difference in the restoration of your home!
At Riverside Restoration Inc., we proudly service Westport, Weston, Greenwich, Cos Cob, Darien, Southport, New Canaan, Fairfield, Old Greenwich, Riverside, Wilton, CT and the surrounding areas with their flood remediation and water damage restoration needs. We will handle all aspects of your restoration from extraction and drying to the rebuilding and remodeling.
Need Help with Restoration & Remediation?


Contact Riverside Restoration