We Work Directly
With Your Insurance Company
5 Questions To Ask Before Hiring A Contractor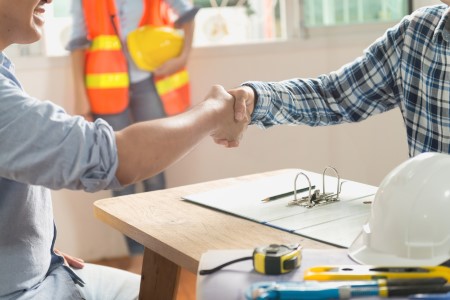 Choosing a contractor to complete an emergency disaster repair or a planned non-emergency renovation can be overwhelming. You want to make sure you hire someone you feel comfortable with and trust to get the job done professionally, within budget, and on time. Although you can usually rely on the opinions of your friends and neighbors and the reviews on reputable online resources , it's still important for peace of mind, to be thorough in your search and ultimately pick a contractor and restoration company that's right for you.
Questions to Ask Before Hiring a Contractor
There are 5 key questions to ask a contractor prior to hiring them to complete a major project on your home. If you are stuck between two or three, the answers provided to these questions usually help make your choice easier. 
What types of clients do you work with? It's important to clarify with the contractor who they have worked with before. Are they mainly a commercial property restoration company? Are they comfortable working on a house? Do they usually work on high-end residential projects or a variety of smaller homes? It's good to get an idea if they have worked on a home like yours so that you can feel more confident in their ability to get the job done right, and to your standards. 
Is your local service area near my address? This may seem like a silly question; you may be thinking, "As long as the contractor wants to fix my home, what does location matter?" Local contractors are more familiar with your area's geography, weather, and culture, being better equipped to serve your needs. They will be more familiar with where supply companies are, should they need them, and will be quicker to show up to the scene should you have an emergency situation.
Do you have relevant work experience? Most contractors have a wide variety of experience, but you want to make sure they've successfully completed a project similar to yours. Ask for photos and references of previous projects , and if possible, drive by a past (or current) job site. 
How much will this project disrupt your life? Since the contractor and their crew will be in your home for a set period of time, it's key to learn what kind of disruption you should expect in your daily life. Is the contractor fixing a leak in your bathroom? Do you only have the one bathroom? Do you have an alternative space? What time will they want to start work every day? When will they leave? Where will they be in your home? What will the parking situation on your street be like? For clients who like discretion, this is an important point to address up front, so that the contractor can propose methods to accommodate your life and cause as little upheaval as possible.
Who from your expertly trained staff will be in my house on a day-to-day basis? This is an often missed question, but a good one. You don't ever want to be surprised and walk into your home to find only one person when you expected ten, or ten people when you expected only two. Make sure you get the names and qualifications of the project manager who will be in charge. Be sure to clarify who will be in charge of specialty contractors, and the details about who will be in your home. It is okay to ask for names, certifications, and work history so you feel safe and comfortable.
Ready to Hire a Restoration Service?
Call Riverside Restoration Inc. Our team of trained experts are available 24/7 to help you in any situation, large or small. We restore higher end homes with the utmost discretion. Our team handles water damage repair, mold and mildew removal, and fire and smoke damage repair. We'll work with your insurance company to help ease the situation and take the stress off of you. We can prevent further damage to your property and will create a plan to restore your home as quickly, safely, and professionally as possible.When you work with Riverside Restoration Inc., you are assured of professionalism, integrity, and fine craftsmanship.
Riverside Restoration Inc. is proud to serve Westport, Fairfield, New Canaan, Greenwich, and surrounding areas in CT .
Need Help with Restoration & Remediation?


Contact Riverside Restoration
Contact Us
If you are looking for a professional restoration contractor in Westport or the surrounding area, give us a call today at 203-227-2655 or complete our online request form.