We Work Directly
With Your Insurance Company
Will Insurance Cover Water Damage From A Refrigerator Water Leak?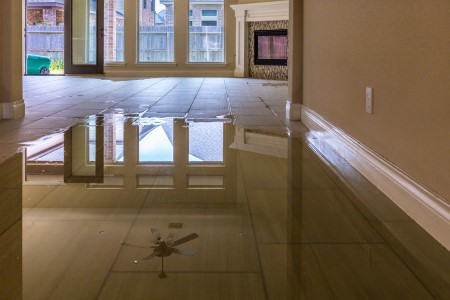 Cold, filtered water and ice on demand are amazing conveniences. In order to enjoy them, you have to add additional plumbing to your home in the form of a water line to your refrigerator. Any time you add more plumbing, you also add more chances for damaging leaks to occur.
You should have your refrigerator water line installed by a professional, and follow any routine maintenance instructions. However, even if you do everything right, damage and leaks can still happen. Refrigerator water line leaks can be tiny or huge, and they can cause a wide range of damage as well.
Water damage can be extensive and complicated to clean up correctly, so many homeowners get professional help, and count on their homeowner's insurance to help cover the expense. If your home is damaged by a refrigerator water line leak, will it be covered? In this article, we will explain what you need to know about coverage, and the clean-up process.
Home Insurance and Water Damage Coverage
Let's get right to the good news: Your homeowners insurance may cover damage from a refrigerator leak - within your deductible and policy limits. Most water damage that comes from appliances and their plumbing is covered when it comes from these three sources:
Overflow: Water flows beyond its usual space, like a washing machine, tub, or toilet.
Discharge: Water travels where it shouldn't, such as through a damaged refrigerator water line.
Blockage: Water that backs up in the wrong direction due to something blocking its path.
There are a few additional considerations that insurance companies will look at, even if water damage comes from the three sources above. To be covered, the water damage also needs to be:
Sudden and Accidental
Sudden and accidental means that you did not have any warning - you did not know the water damage was happening or could happen. This is easiest to understand by looking at examples of water damage that are NOT sudden and accidental: A leak from an upstairs bathroom that you watched grow in your ceiling for months, a part of your roof that caused problems every time it rained, or a slow, visible leak in a refrigerator water line that eventually damaged all of your flooring and lower cabinets. Since you knew about and did not address issues like this, they are not sudden and accidental, and your insurance may not cover the damage.
Internal or Originating on Your Property
Internal or originating on your property means that the damage occurred as a result of things you have access to, and can control. A leak in your refrigerator water line or ice maker is internal and originates from your property. A form of damage that is NOT internal or originating on your property would be a sewage back up due to municipal system issues.
There is some bad news regarding insurance coverage for a refrigerator water line leak: Any repair or replacement of the refrigerator, ice maker, or line itself typically would not be covered. However, a home warranty or warranty on the appliance itself might cover it.
Expert, Professional Water Damage Restoration To Protect Your Family And Your Home
If you are faced with a disastrous refrigerator water line leak, it's critical that you get help as soon as possible. Water can destroy the finishes and even cause structural damage in your Connecticut home. Secondary issues like mold and mildew can put your family at risk. Without remediation, mold colonies and spores will continue to harm your health and damage your home even after a leak has stopped.
Here at Riverside Restoration Inc., we have expert knowledge and specialized equipment we will use to solve these problems. We also understand just how difficult and confusing the insurance claim process can be, especially if you have never been through it before.
As trusted, local experts for remediation and restoration in Cos Cob, Darien, Fairfield, Greenwich, New Canaan, Old Greenwich, Riverside, Southport, Weston, and Wilton, CT, we can make the entire process easier by working closely with you and your insurance company to ensure you get all of the help you're entitled to under your insurance policy. If you're in need of insurance restoration assistance to get your home back in order after water damage, let our team of skilled professionals help you today.
Need Help with Restoration & Remediation?


Contact Riverside Restoration