We Work Directly
With Your Insurance Company
Why Connecticut Homeowners Need To Get Help Fast After A Fire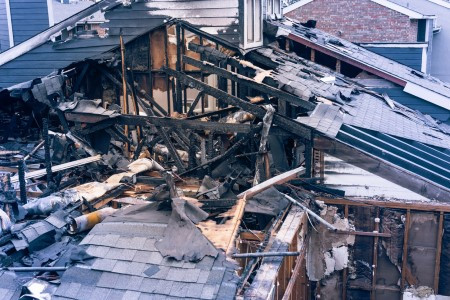 A fire at your home is a sudden, scary event. It's something that no one wants to experience, but unfortunately almost 350,000 home fires occur each year. Once the acute emergency is over and your loved ones are safe, you will need to figure out what your next steps should be. Even though this may be an overwhelming time, quick action is essential.
The destruction caused by the fire itself may be obvious, but fires also leave behind smoke and soot. These fire by-products are dusty, greasy, acidic, and can discolor and even corrode the surfaces in your home. Even if a fire was small, you may be faced with pervasive, smelly smoke damage to soft surfaces like fabric, carpet, and furniture. In addition to being destructive, ugly, and smelly, smoke and soot can cause health problems ranging from respiratory issues to cancer.
In order to put out the fire at your home, a lot of water was most likely used. Fire hoses can deliver hundreds of gallons of water per minute, both saving lives and causing large amounts of damage. After a fire is extinguished, your home may have water damage from top to bottom. Metal pipes and plumbing fixtures corroded by smoke damage can also leak and cause additional water damage if the fire damage is not thoroughly removed and restored.
Post-fire water damage can flow throughout your home, causing visible destruction, structural problems, and even potential health issues for those living in the house if the water is not cleaned up right away.
Reason Three: Mold and Mildew
Another problem that often follows water damage is the growth of mold and mildew. Mold only requires five things in order to start growing within 24 hours: Oxygen, moisture, food (mostly starch or sugar like wood or the paper in drywall), 50% humidity or higher, and temperatures over 41 degrees F.
Once mold starts growing, it can quickly cause both superficial and structural damage to your home and its contents. Exposure to mold can also cause dangerous allergic and other reactions in anyone exposed to it. Fortunately, quick clean-up by knowledgeable professionals can remove and prevent mold.
Don't Wait to get Help with Smoke and Fire Remediation: Contact the Team at Riverside Restoration
After facing a fire, you will be faced with many decisions - let the experts at Riverside Restoration help. We can help get your home back to normal, and make sure things are done right. By working directly with your insurance company, we will protect your valuable home by making sure you get the coverage you are entitled to.
Restoring your home's beauty, comfort, and safety is paramount after a fire. That's why our professional team will use industry best practices for cleaning, repairs, and restoration. We have local relationships and specialized restoration and contracting licenses and certificates, ensuring that you will get the best care and service possible.
Contact Riverside Restoration
to learn more about how we can help immediately after a fire and how we can stop smoke and water damage. Take action today - we're ready to restore your home and your peace of mind.
Need Help with Restoration & Remediation?


Contact Riverside Restoration