We Work Directly
With Your Insurance Company
What You Need To Know Before Buying A Historic Home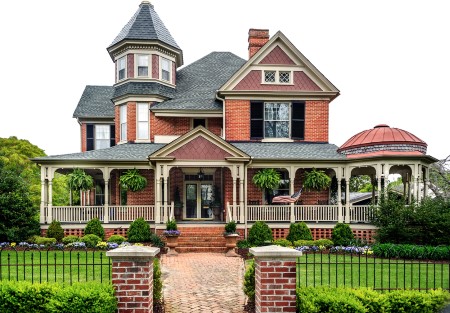 Historical homes can be appealing for their older charm, blown glass windows, the quality and craftsmanship of tuck points and stonework. But are you willing to take on some challenges and hurdles that come with owning an historical property?
Before you put in that offer on the historical house of your dreams, do your due diligence and check with your local government agencies on any issues and rules that may come with the place. Here are four things to be aware of before purchasing a historic home:
Check for a Historic Preservation Easement

Before you buy a historic home, check to see if the home has a historic easement. Easements can protect the integrity of the home and require subsequent owners to do the same. If the home already has an easement, then you are required to uphold the same historical preservation regulations given by the government agency or preservation organization. If the home is in a historic neighborhood, but the property itself doesn't have a preservation easement, you can consider purchasing one.

Limited Renovation Rules and Regulations

Where your potential historical home is located matters. Registered historical homes are usually regulated by the state where it's located. State or local government may provide rules and guidelines to what you can renovate within your historical home and what cannot. They can even regulate your exterior's color and material choices, as well as the percentage of the home you can renovate per calendar year. The cost of renovations will also be higher. If you find mold growth , a burst pipe, or water damage, it may cost a lot more to fix and preserve the integrity of the home. There's a reason these homes have stood the test of time. They're built of solid materials, but harder and costly to replace if needed. Before you buy an historical home, look into benefits your state offers. Some provide homeowner tax credits toward the maintenance and repairs of historical houses.

Historic Home Insurance Can Be Pricey

Getting insurance for an historic home is usually pricier than policies for homes built after 1978. Older homes tend to have more hidden problems than recently built homes that are more costly to fix. This is not only because of the materials used to build older homes, but also that you need to stay within the National Register of Historic Places' guidelines for renovations and rebuilding.

Historic Home Inspection

Many financial lenders don't require a home inspection prior to buying a home. It is highly recommended you get one for an historic home. Homes of a certain age can have hidden issues that we aren't used to dealing with in more modern homes. It's important to choose a home inspector who has experience or specializes in historic homes. They will know specifically what to look for, from lead paint to asbestos.
Does Your Historic Home Need Renovating Due to Water Damage?
Call Riverside Restoration Inc. so we can mitigate the water damage and dry out your home as quickly as possible. Our certified team of experts are available 24/7 to assess damages and provide solutions to getting your home fixed ASAP. We can even help you ready your home for the colder months to prevent future damage!
At Riverside Restoration Inc., we proudly service the Westport, Weston, Greenwich, Cos Cob, Darien, Southport, New Canaan, Fairfield, Old Greenwich, Riverside, Wilton, CT and surrounding areas with their flood remediation and water damage restoration needs. We will handle all aspects of your restoration from extraction and drying to the rebuilding and remodeling.
Need Help with Restoration & Remediation?


Contact Riverside Restoration