We Work Directly
With Your Insurance Company
5 Unexpected Causes of Damaging Fires (And How to Prevent Them)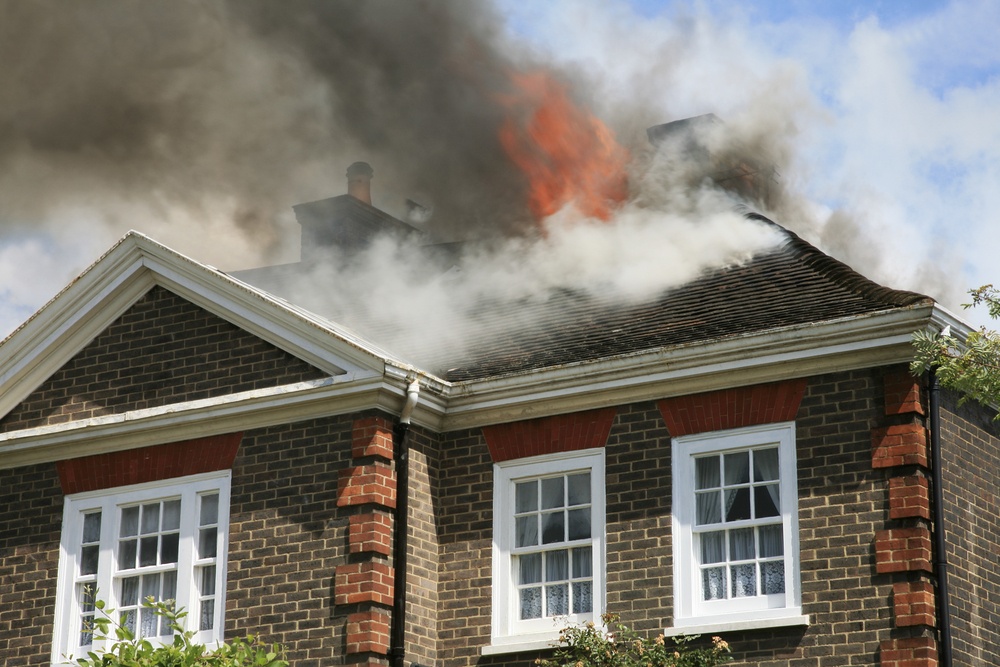 Fire safety is important to any homeowner. Most homeowners are aware of certain causes of fires and how to prevent them. For example, dealing with home fireplaces and properly disposing of ash and soot is incredibly important. Cooking safety and preventing kitchen fires is equally necessary for any homeowner.
There are a number of lesser known yet equally dangerous causes of home fires that all Connecticut homeowners should be aware of. Your home is a significant investment, and even a small fire can cause significant burn and smoke damage to any property. So, learn about other little-known but still common causes of fires and how to prevent them. Keeping your beautiful Connecticut home safe from fires should be of top concern to any and all homeowners.
1. Glass Objects and Refracted Light
As a kid, did you ever hold up a magnifying glass to the sun in an attempt to generate heat for all sorts of nefarious purposes? When light passes through glass, depending on the angle and material, heat can be produced. So, when light passes through an empty jar or another glass or crystal object, it can generate enough heat to ignite papers, curtains, and other flammable objects and materials. Be sure to store glass items away from direct sunlight and use closed cabinet storage when possible.
2. Dust and Flammability
Electrical fires can result from faulty wiring or worn protective casings and other materials. But dust can be a fire hazard if it accumulates in clumps and invades wall sockets, heating appliances, and other electronics. Dust is flammable, and it only takes a single spark to ignite. Keeping your home clean and dusted will reduce potentially dangerous accumulation.
3. Laptop Fires
When laptops are left on for extended periods of time, their batteries and equipment generate heat. When they're placed directly on a bed, couch or soft surface, this heat can build up due to restricted airflow. To reduce the risk of fire, laptops should be placed on a non-flammable, hard surface. Raising up the screen end of the laptop can permit airflow beneath the laptop, helping to keep things cool. Also, adjust your settings so that the laptop goes to sleep after several minutes of inactivity, which will also give the equipment a chance to cool.
4. Old Dishwashers
Appliance fires are another common cause of house fires. However, dishwashers can be an unexpected culprit. Dishwashers generate heat while drying and also move water and liquids throughout their interiors. When water seeps out of containment areas and makes contact with electrical wires, fires can start. This is why dishwashers should be monitored while running. Don't run them overnight or leave the house while they're operating. Older dishwashers and those exhibiting any signs of malfunction should be inspected.
5. Animal Damage
Pests and wildlife can cause damage to homes, but they may even pose a fire risk. When wild animals or even pets, chew on electrical wires they create a fire risk and can harm themselves. Animals who chew or burrow through insulation and other interior components can also spread dust, hair, and other flammable particles and materials. If there are any signs of pests living within or getting into your home, it's best to deal with them promptly. In addition to setting traps and sealing off entranceways, a professional can help to keep your home, your walls, and other spaces pest-free.
Keep Your Connecticut Home Protected From Fires
Fire safety knowledge isn't just useful information to have; it can be life-saving and can protect your greatest investment. But when fire and smoke damage cause damage to the beautiful homes in Fairfield, Old Greenwich, Weston, Riverside, and other parts of Connecticut, Riverside Restoration will be there.
Riverside Restoration provides professional fire damage restoration for your home. We can handle the cleanup, work with your insurance company, and promptly begin restoring your home. If your home's been damaged by smoke and fire, our team of professionals can help manage stress by guiding you through the restoration process, assisting with complex decisions, and even helping to manage your insurance claim. Contact us to learn more about how we can help restore your home and peace of mind.
Need Help with Restoration & Remediation?


Contact Riverside Restoration