We Work Directly
With Your Insurance Company
The Importance Of A Fire Escape Plan For Your Family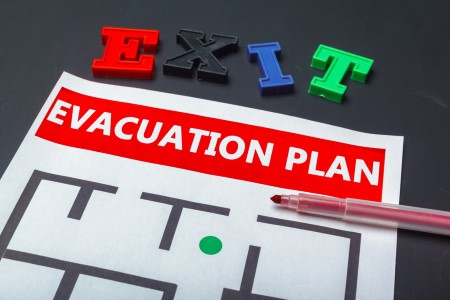 House fires can be scary. In the moments of fire it's easy to panic, freeze, and not know what to do. If you ever have a house fire, it's important to make sure your family is prepared and educated on how to get to safety. According to the American Red Cross, if a fire occurs, you have as little as two minutes to be alerted of the fire and get out of the house. If you have a home fire escape plan and have practiced fire drills, then if the unthinkable happens, your family is more likely to respond calmly and be safe.
The Importance of a Fire Escape Plan for Your Family
A fire escape plan works as long as everyone in your family is involved in its creation and feels comfortable with the chosen escape routes and where to meet. Follow these tips to create a fire escape plan that will help keep you and your family safe.
Have a family meeting. The first step is to get everyone in your family together and discuss fire safety and the importance of preparing for an emergency, no matter how unlikely it may seem. The topic of fire may be a little alarming for children, so talking openly about what you may experience in a fire and the steps to take to get out of the house could help ease their worries. The more information a child has, generally the safer and more a comforted they feel.
Take a tour of your house. You family has been all over your home many times, but would they know how to get out should a fire occur? Walk through your house with a "fire safety" lens. Inspect each room to make sure there is a clear path to each of at least two exits, including doors, windows, and fire ladders. Point out all of the possible exits, and make sure everyone knows how to lock and unlock doors and windows, as well as how to unhook or push out a window screen. If windows have safety bars on them, make sure each has an safety bar emergency release that can easily be opened in case of an emergency.
Test the smoke alarms. Make sure your family is aware of where all of the smoke detectors are and how to test them. Push the alarm test button so your family hears how loud the sound is in case of a real-life emergency. That way, if they hear the alarm later on, the noise won't be as jarring. Hopefully it will at least cue them to spring into action as opposed to panic. Test your smoke alarms regularly, about every six months. Involve the kids in the alarm testing and changing batteries so they feel more empowered about fire safety.
Make a plan in case of an emergency. Use this printable fire escape planning template as a starting point. Draw your home on the fire escape planning grid. Label all the rooms, marking possible escape routes–at least two exits from each room. Let the kids help draw the plan so they are actively participating and getting educated on their home and learning the best ways to get out of the house. Pick a meeting place that is far away from the house where family members once everyone is outside. The spot should be out of the way for emergency services. Many families choose to meet at their own mailbox or at the neighbor's driveway across the street. If there is a person in your household with mobility issues, make sure you have a solid plan for them as well. Consider installing an emergency evacuation chair or a stair chair.
Always use the buddy system, especially for kids. Pair up family members to one another. Using the buddy system will make sure everyone is accounted for. This is especially important if you have a large family or multi-generational living situation. But, and this is important, make sure everyone knows that ultimately they are responsible for getting themselves to safety before anything else. Also, if there are young children, people with special needs, or elderly people, an adult should be assigned to each person.
How to use a fire escape ladder. If your common areas or bedrooms are located on an upper level in your home, consider installing escape ladders. They are a great way to add an extra escape route when going down the stairs isn't an option. Ladders come in all shapes, sizes, and weights, so make sure to do research before buying. Depending on the age and size of the person using the ladder will affect what kind of escape ladder you purchase.
Practice, practice, practice. After you have established a family fire escape plan, practice it as much as possible. If you can, without causing too much stress, try to make the fire drill a surprise so you can more clearly see the flaws in your plan and how your family members act under stress. Practicing your fire escape plan on a regular basis will make things easier if you ever have an actual fire. Your family will feel more confident in how to get out safely and where to meet. By doing fire drills often, your family will have their escape routes memorized, so they should be able to do it even if they're half asleep. Remember, the point of practicing is not to scare anyone, but to keep them safe!
Has Your Home Had Fire Damage?
When fire strikes it is devastating . Even when the fire is officially out and it is clear to return to your home or business, the damage left behind by flames and chemicals used to extinguish the fire can cause damage if not treated properly.
Riverside Restoration Inc. is here to help during this difficult time. We understand that working through a house fire is not something that you can ever prepare for. However, we know what needs to happen to ensure your life returns to normal as quickly as possible.
Call Riverside Restoration Inc. 24 hours a day, 7 days a week and a technician will join you on site to begin our evaluation.
Need Help with Restoration & Remediation?


Contact Riverside Restoration
Contact Us
If you are looking for a professional fire damage repair contractor in Westport or the surrounding area, give us a call today at 203-227-2655 or complete our online request form.