We Work Directly
With Your Insurance Company
Specialized Home Inspections Part One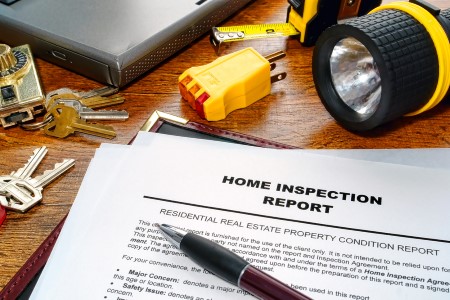 Each home is different. Depending on your personal taste, location, and budget, your home's characteristics will vary from your neighbors. Why then, is a home inspection "standard" when purchasing a home?
A standard home inspection provides the buyer with a detailed report on the home you're planning to buy, but it does not cover everything. If an inspector notices something unusual that is outside their scope of expertise, they will suggest that the homeowner calls in an expert to find out what caused the issue.
These issues can range from structural issues, pest control, mold, or even radon testing – it all depends on the different features that your home has that makes it unique. Let's look at what is included in a standard home inspection. We'll touch on a few specialized home inspections you may consider when purchasing your dream property.
What is Including in a Home Inspection?
About 80% of homeowners use an inspection to help them with their purchase. Keeping in mind that an inspector works as a generalist to provide an unbiased opinion of the home you're planning to purchase. They typically conduct a visual inspection of parts of the property that are readily accessible.
This tends to include:
Structural inspections of floors, ceilings, stairs, and walls
Exterior siding, decks, and porches
Roof
Ventilation
Plumbing
Insulation
Major appliances
Windows and doors
Fireplaces
HVAC systems
Depending on their findings, a home inspector may recommend further inspection by a specialist. This could be an electrician checking faulty wiring for example.
On average, a standard home inspection costs around $300, with specialized home inspections varying in price, but saving costly home repairs in the long run.
Other Types of Home Inspections
That said, let's look at some of the other 15 specialized types of home inspections. These will help you get a more specific idea of what needs to be done to the home before the responsibility is yours alone to deal with. While there are a lot of inspections on this list, remember that your property will likely not need all of these inspections listed.
Chimney Inspection

A chimney inspection looks at the chimney and fireplace. It looks to verify that it's venting properly, any cracked mortar, or any build-up of creosote (caused by burning wood, which can combust). This inspection can help prevent chimney fires and smoke from seeping inside when you light a fire.

When you need this inspection: You will need a chimney inspection before you use your fireplace. If your house has a chimney, inspect it so you don't have to worry about birds or bats inside or the risk of carbon monoxide poisoning.

Roof Inspection

A roof inspection can save you the potential of thousands of dollars of home repairs down the line. A roofing contractor will examine the roof and ceilings for any signs of leaks as well as past or current damage. They will also check for any signs of mold growth that can mean rotting wood.

When you need this inspection: If your home is more than 20-25 years old, it is recommended that you get your roof inspected. If you can also see signs of damage like loose shingles this is a good time to ask for a roof inspection as well.

Electrical Inspection

Electric fires are the 4th leading cause of home fires according to the National Fire Prevention Association. An electrical inspection will check for exposed wiring, modified electrical panels, spliced wires, and anything else that can pose a fire risk.

When you need this inspection: Anyone that is purchasing a home is recommended to have an electrical inspection. This will ensure that the electrical system of your home is safe and in no danger of starting a house fire.

HVAC System Inspection

This inspection checks the heating and air conditioning unit in the home to learn how well the system's been maintained. During this inspection, the professional will check the calibration, heating pumps, electrical connectors, air filters, installation, etc.

When you need this inspection: During your standard inspection, your inspector will measure the temperature of the home and if a questionable temperature reading comes from your furnace or air conditioner, an HVAC specialist will determine if the unit needs to be fixed or replaced.

Plumbing or Water System Inspection

Plumbing and water inspections will involve a diagnostic channel or visual check. The plumber will review the pipe connections and shutoff valves, inspect all fixtures and appliances. They will also verify that everything is installed to code. Water pressure will be checked along with the water heater and all drainage.

When you need this inspection: If your home is built before 1990, or signs of drains, leaks, or low water pressure are evident, a plumbing inspection is necessary.
This is just the start of specialized inspections. Check back for part two of more in-depth inspections that can save you money on home repairs before you purchase a new home!
While specific inspections can alert you to problems before you purchase a home, Riverside Restoration Inc. can assist you in repairing the problem once you are aware of the issues. If you need a restoration specialist to assist with water damage , fire or smoke damage , or mold restoration , we are here to help.
Contact us today for a free consultation!
Need Help with Restoration & Remediation?


Contact Riverside Restoration