We Work Directly
With Your Insurance Company
Protecting Your Home During a Large Renovation Project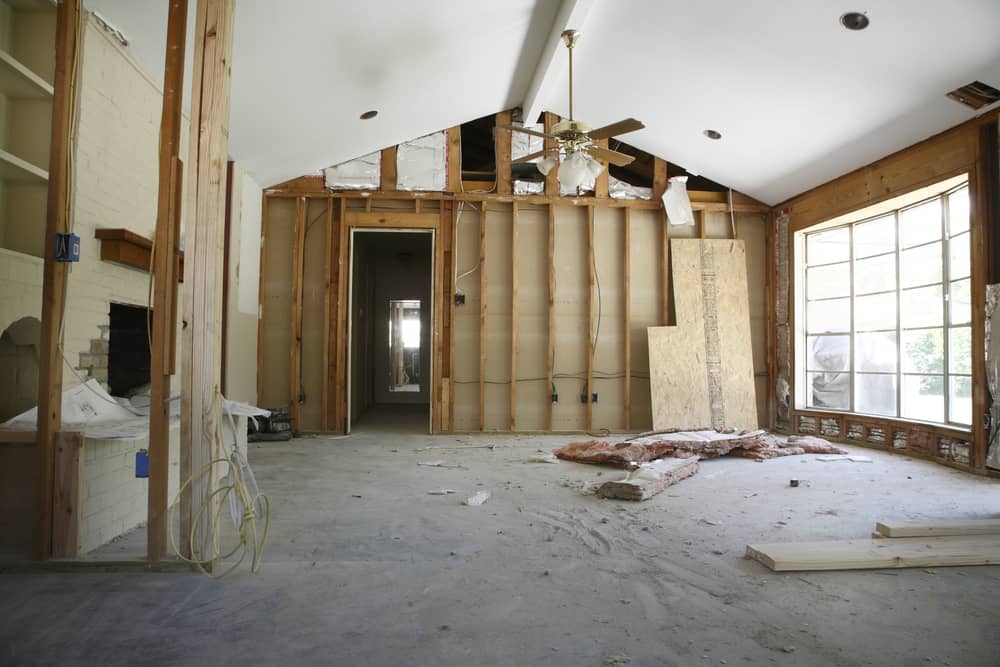 With all of the noise, dust, and contractors coming in and out of your home, a large renovation or disaster restoration project means that you might need to move out of your home for a period of time. While you are gone, your home is in a much more vulnerable position.
Trust Your Contractor
The first and most important step you can take to protect your home is to hire a contractor you can trust to take care of your home. Here are a few tips on picking a contractor you can trust:
Get recommendations from friends and neighbors who have recently done a large renovation.
Ask the contractor for a list of references…and actually contact them.
Make sure that your contractor has the proper insurance and licensing.
Check their online presence and read reviews from previous clients.
Ask if they will be using subcontractors. Be sure to confirm that the subcontractors will be licensed and insured as well.
Keep Eyes on Your Home
Your neighbors can be a great help during a large renovation project. If you have a good relationship with your neighbors, ask them if they would be willing to be an extra set of eyes on your property. Discuss your plans with your neighbors so that they can call you if they see anything out of the ordinary.
You should also plan to drive by your home regularly to make sure the house is secure. If, for some reason, you suspect that the house has been broken into, don't enter the house. Call the police immediately in case the intruder is still inside.
Consider All Aspects of a Security System
You might already have a security system. Or, this might give you the motivation to install a security system. In either scenario, here are some key elements of a comprehensive security system that can keep your property safe during a major renovation (and after):
Having cameras around your home gives you visual access to your space at all times, even when you aren't there. Consider both exterior and interior cameras and what you feel comfortable with. Cameras are a great deterrent to vandalism or theft. If you do have damage or vandalism, you will now have footage to know exactly what happened and who was involved.
Many of the new security systems allow you to have a pin pad or remote access to exterior door deadbolts. You can unlock doors for your contractor or subcontractors from an app on your phone. This helps you know exactly who is going in and out of your home during the renovation without handing out keys to multiple people.
Most security systems provide 24/7 monitoring for smoke, carbon monoxide, and even flooding. Make sure your system is set up to alert authorities in the event of any of these circumstances in order to have a quick response and hopefully reduce the level of damage.
Secure Valuables
If you have small valuables, put them in a safe that is bolted to the floor or hidden away. Make sure that the safe is both waterproof and fireproof — as many fires end up creating water damage. You can also get a safety deposit box at a bank for jewelry, important documents, and other small valuables. With larger items, consider renting a storage unit.
Maintain a Secure Exterior
As much as possible, maintain the exterior appearance of your home. Keep trees and shrubs trimmed, and make sure your yard is cut as if you were living in the home.
Don't give away your absence with piled up newspapers or mail. These can indicate that nobody is living on the property, giving vandals and thieves the message that your home is easily accessible and not secure.
At nighttime, make sure that you have exterior lights for the perimeter of your home. A well-lit exterior discourages vandalism and break-ins. Motion detector lighting is a great way to keep your home secure without keeping the neighbors awake.
Make sure all of your doors and windows are locked with solid hardware. Talk to your contractor about adding metal door jamb shields to exterior doors, and remember to check over all points of entry if you have a basement. Basement windows can provide easy access to big-ticket items like water heaters and your furnace.
Riverside Restoration Is a Contractor You Can Trust
Need Help with Restoration & Remediation?


Contact Riverside Restoration
Contact Us
If you are looking to start a renovation project anywhere near Greenwich, CT, or the surrounding areas, Riverside Restoration Inc. can help you not only create the home of your dreams but also keep it secure during the process. Contact Us today for a free consultation.