We Work Directly
With Your Insurance Company
Is Your Chimney Ready for Fall and Winter in Connecticut?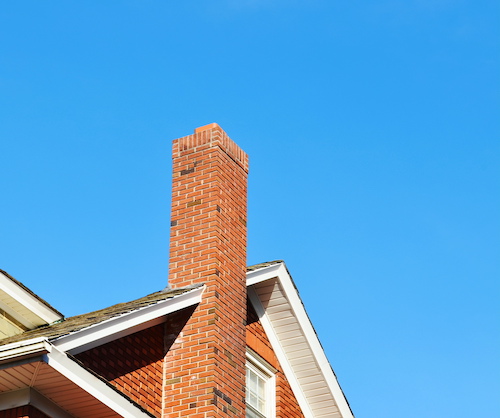 Here in Connecticut, we enjoy four distinct seasons, including a crisp fall and cold winters. One seasonal pleasure that many enjoy is having a cozy fire in your home fireplace or woodstove. These home features are wonderful, but they do come with a few risks, including chimney fires.
A chimney fire may sound like an oxymoron, but they are common problems for homeowners with fireplaces. Each year, there are more than 25,000 chimney fires in the United States, causing over $125 million in property damage.
During the process of burning a fire in your fireplace, flammable substances, including soot and creosote, build up on the walls of your chimney flue. If these substances eventually get hot enough to catch fire, this internal (and often invisible) fire can damage the chimney flue and even allow heat, smoke, and fire to escape into your home.
Leading fire safety organizations recommend annual chimney inspections and cleaning to ensure a safe, efficient, fireplace and chimney system. Early fall is one of the best times to get that service scheduled - don't put it off and risk the safety of your home and loved ones this winter.
Beyond annual services, there are a few other things you can do to protect your home from chimney fire damage. In this article, we will share our best advice and insights, and explain how we can help if you are faced with fire or smoke damage to your Norwalk area home.
Getting Your Home Ready For Fall and Winter Fires
Fortunately, there are several easy ways you can make your home safer this fall. Don't forget to complete these tasks at your vacation or second home as well.
Complete an Annual Chimney Cleaning and Inspection
The National Fire Prevention Association advises Connecticut homeowners with fireplaces and woodstoves to contact a professional chimney sweep for an annual cleaning and inspection. creosote buildup occurs every time you use your fireplace, and keeping it to a minimum via regular cleaning will cut down on the threat of a dangerous chimney fire. Creosote becomes more difficult and expensive to remove the longer it builds up inside your chimney.
Install Smoke Alarms and Carbon Monoxide Detectors
Most homeowners already have smoke alarms and carbon monoxide detectors, but make sure you are replacing the batteries every six months, and replacing the devices themselves every five to ten years.
Install Fire Extinguishers
Before you light your first fire this fall, check your fire extinguishers to be sure they are in good working condition. Does everyone in your home know where they are located, and how to use them?
Chimney Fires: What Connecticut Homeowners Need to Know
Even with all of the prevention activities listed above, chimney fires and other damaging fireplace and woodstove problems can occur. There are several issues that can lead to scary, destructive chimney fires. Two of the most common are chimney obstruction and deterioration.
Chimney Obstructions
Chimney obstructions are exactly what they sound like: Blockages that happen when tree limbs, leaves, bird nests, and other debris end up in your chimney flue. Chimneys can also be obstructed by a thick buildup of creosote, which the highly flammable residue left behind in the flue from wood-fueled fires. Lots of creosote build up in your chimney can both cause chimney fires and cause them to burn bigger, hotter, and longer, endangering your entire home.
Chimney Flue, Masonry, and Fireplace Deterioration
Your chimney flue liner protects your home and also provides a way for smoke and combustion gasses to exit your home. When the flue liner has cracks or other damage, using the fireplace becomes dangerous because your home is not protected. Similarly, if the masonry walls of your chimney and fireplace become damaged, there is an increased risk of a home fire: Chimney fires can break through the masonry structure through cracks in mortar and bricks.
Get Professional Help With Fire And Smoke Damage Restoration
At Riverside Restoration, we sincerely hope that most Westport homeowners will never experience a chimney fire. However, problems can occur even if you address all of the cleaning, prevention, and maintenance items listed above.
If your home has been damaged by fire or smoke, we are ready to help, 24 hours a day, 7 days a week. We have years of professional fire damage restoration experience, and know how to partner with your insurance agent in order to make it easy for you to get your life back to normal, as quickly as possible. Contact us today to learn more.
Need Help with Restoration & Remediation?


Contact Riverside Restoration