We Work Directly
With Your Insurance Company
How To Tell If Your Pool Is Leaking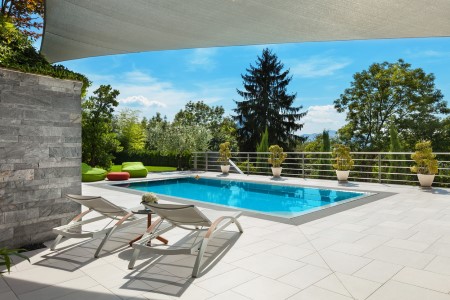 Your swimming pool adds great value to your home. It also adds great entertainment for your family and friends in the warmer months when you want to cool down and have some fun. The cost of putting in a pool alone can cost up to $25,000. And with pools needing 15,000 to 30,000 gallons to be filled, the water bill can also be expensive.
This is why, at the first sign of a leak in a pool liner or a sudden loss of water, you want to search for the source of the leak and get it fixed. The water damage that can occur from the water leaking out of the pool can be brutal, so if you can't find it, hire a professional to help prevent further damage.
Use this guide to help you see the signs of a leaking pool, and learn why they shouldn't be ignored.
Water level in pool dropping

Dropping water levels is the most obvious sign that water is leaking from your pool. By monitoring water levels, you can keep track if your pool is losing water from evaporation or a leak. If there's a much larger water loss, then there is a leak in the pool.

Falling or cracked pool tiles

If the ground surrounding the pool becomes overly saturated with water, it can make the structure of the pool less stable, causing cracks or gaps in your tiles.

High water bill.

If your pool is equipped with an automatic fill device, then you may not see your water levels dropping as an indicator that you have a pool leak. However, if your water bill is suddenly high , you might have a water leak. Check not only your pool, but look for leaks in other plumbing systems –sprinkler systems, outdoor spigots, and indoor plumbing–until you find the culprit.

Pool pump leaking.

Do you see standing water around your pool pump or corrosion on the pipes? Then you probably have a pool leak.

Light algae growth in pool.

If untreated water constantly is being added to your pool water from a leak, it will mess up your pool water's pH, creating an ideal environment for algae to grow. Your first instinct may be to treat the water with chemicals on a more regular basis. However, that is just putting duct tape over a bigger problem. If you see algae, you most likely have a leak. The the only way to permanently get rid of the algae is to repair the leak.
Why You Should Never Ignore a Pool Leak
The cost to repair a pool can be great. That is why it's so important to protect your investment and fix a potential leak right away. Much like how a tiny nick in your windshield can become a large spider web of cracks in a matter of days, a tiny crack a quarter of an inch can expand to a large crevice several feet wide. Acting quickly is key to keeping both damage and costs down.
The longer you ignore your pool problems, the bigger and more devastating the damage can become. If enough chlorinated water leaks out of your pool, over time it will begin to erode the pool's galvanized steel walls in vinyl lined pools and rebar in the walls of concrete pools. The chemicals and the water, combined with the metal leaching into the water, will break down the walls of your pool and flow into the ground surrounding the pool. Toxins may leach into your ground water, as the structure of your pool may be reduced to sandy gravel.
Do You Have Water Damage in Your Home from a Pool Leak?
Call Riverside Restoration Inc. at the onset of a pool leak to prevent further damage to your property. We come to your home and make sure it is restored to its pre-loss condition as quickly, safely, and professionally as possible. We can also help clean up any water damage from a corroded pipe, damage pool lining, or severe weather storm to prevent further structural damage or mold growth.
At the same time that you call your insurance adjuster, call us, too. We will help you navigate the thicket. By being proactive, you also will help to prevent an insurance company from recommending an undesirable contractor out of their own self-interest. As a policy holder, you have the right to choose your own contractor.
When you work with Riverside Restoration Inc., you are assured of professionalism, integrity, and fine craftsmanship. Riverside proudly serves Cos Cob, Darien, Fairfield, Greenwich, New Canaan, Southport, Weston, and surrounding CT areas .
Need Help with Restoration & Remediation?


Contact Riverside Restoration