We Work Directly
With Your Insurance Company
How To Save Wood Floors From Water Damage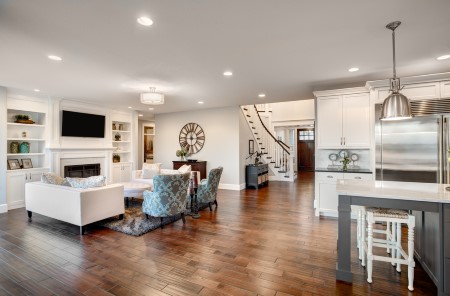 Living in a hurricane and flood-prone state like Connecticut can lead to unwanted water coming in and soaking up on your hardwood floors, causing water damage . Water and hardwoods don't mix very well. The longer the water stands on the wood, the more likely it will warp, crack, bend, bow, and rot.
If you want to save your wood flooring from water damage, act quickly and follow these steps.
Remove surface water on the wood. Wood's cellulose fibers soak up water quickly, but release it slowly, so your wood floor will soak up the water and hold onto it. Even if your wood is coated or sealed, they still can soak up water. Water finds its way into wood through baseboards, cracks, seams, gaps, etc. Use a wet dry shop vacuum to suck up the water off of the wood. Use a squeegee to help release the water from the wood as you vacuum it up.
Scrub the floor. The quickest way to mold is the combination of water and dirt, so cleaning this up is an important step for mold prevention . Mix equal parts mild detergent and hardwood floor cleaner. Use a stiff bristled scrub brush to scrub the wood, making sure to scrub and lift all of the dirt, mud, and other organic materials that can lead to mold growth.
Treating mold on wood. Spend extra time scrubbing areas of your hardwood floor that show signs of mold. Rinse the scrub brush in a separate bucket and dry the floors with a clean, dry towel.
Dry the floor. Airflow helps dry out the inside of your home. Use dehumidifiers and big box fans to dry the wood floors. Open windows to create a cross-breeze to let the moisture out, and help dry the area quicker. Do not apply heat to the floors. Wood floors that dry too quickly tend to crack. Heat applied to wood floors can crack or splinter.
Sand the floor, if necessary. If, after your floor's dried, some of the wood planks are bowed or cupped, you might consider sanding down the more pointed edges . If the wood is too damaged, you may need to replace that board completely.
Make your wood floors look like new. If need be, you might need to restain and seal your floors to make them like new again. A water damage professional may be more equipped to remove and replace fewer boards faster, saving you money and time in the long run.
Need Help Saving Your Wood from Water Damage?
Call Riverside Restoration Inc. as soon as possible to prevent water damage to your home and save money in repairs! Skilled professional restoration experts are available 24/7 to assess your damage and provide solutions to getting your home or business fixed.
At Riverside Restoration Inc., we proudly service the Westport, Weston, Greenwich, Cos Cob, Darien, Southport, New Canaan, Fairfield, Old Greenwich, Riverside, Wilton, CT and surrounding areas with their flood remediation and water damage restoration needs. We will handle all aspects of your restoration from extraction and drying to the rebuild and remodeling.
Need Help with Restoration & Remediation?


Contact Riverside Restoration