We Work Directly
With Your Insurance Company
How to Handle Water Damage During Home Renovations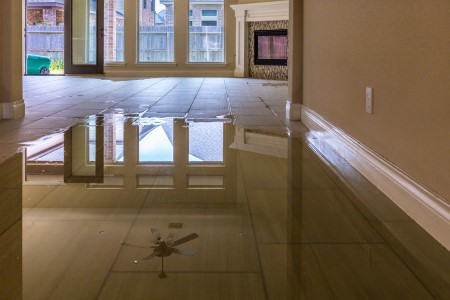 Home renovations are exciting, creative projects. Updating your home to make both daily life and annual events more pleasant is a goal for many. Even with careful planning, most construction projects include a few surprises, one of which is the potential for water damage.
Water damage can happen in the middle of a renovation project, or it may occur as a result of the project after all of the workers have left your home. There are many potential sources for drips, leaks, and floods - all of which can lead to serious issues at your newly renovated home.
If a contractor causes an issue that leads to water damage at your house, what should you do? It's important to know what to watch out for, and how to protect your home and family if anything unexpected does occur.
Potential Sources of Water Damage During a Home Renovation
No professional contractor intends to damage your home. Plumbers, roofers, general contractors, and specialized workers have great skills and are almost always respectful of the homes they are trusted with. However, accidents and misses can happen for many reasons. Here are a few examples of the way that water damage can be caused during your renovation project.
Roofing: An unexpected storm can lead to water intrusion on an incomplete project, and errors in a roofing repair can lead to sudden or future leaks.
HVAC Systems: Air conditioner drain lines and drip pans can be installed incorrectly, or be damaged during nearby projects.
Appliances: Washing machines, dishwashers, hot water heaters, and any other appliances with water lines can all cause water damage. They can be connected incorrectly, damaged during shipping or installation, or be compromised by something as small as a single nail hole.
Plumbing: Whether you are adding a new bathroom or updating an existing kitchen, many home renovations involve plumbing. A tiny hole, loose pipe, bad fixture, or missing parts can cause major water damage. Additionally, plumbing-adjacent fixtures and finishes like sinks and tile can be installed wrong or damaged during a project. This can allow water to penetrate and damage other areas.
Water damage can cause major issues in your home. When you see it (and address it) right away, you can protect your investment - and your loved ones. Here's what to do if it happens to you.
What to do When a Contractor Causes Water Damage in Your Home
Other than small spills or quickly cleaned up local leaks, water damage is not something that you can tackle yourself. It often causes problems you can't see, and can lead to bigger issues like mold and mildew. If you are faced with water damage during a home renovation project, here are the steps you need to take - right away.
Step One: Contact Your Insurance Agent
When you call your agent, explain the problem that you are having, and give them contact information for the contractor you are working with.
Step Two: Contact Your Contractor
Call your contractor to get help with stopping additional damage right away. Let them know that you have contacted your homeowner's insurance company, and they should contact their insurance company as well, so that both companies can work together on any resulting claims.
Step Three: Don't Clean Up
This may seem like confusing advice, but you want your insurance company and restoration contractor to see exactly what has happened when they come on-site. It can also be dangerous for you to enter a flooded property - don't take the risk.
Step Four: Contact an Experienced, Local Water Damage Restoration Contractor
Water damage restoration contractors can arrive right away with large teams and specialized equipment. This fast, effective response will reduce the scope of your clean-up project and will ensure that your home is dry, clean, and safe. This can help keep an expensive renovation project on-time and on-budget.
Riverside Restoration: Your Valued Renovation Partner
Whether you are a homeowner dealing with water damage, or a general contractor who needs help on a job site, Riverside Restoration can help. We are experts at restoring Connecticut homes, and are ready to be a part of your successful project.
Need Help with Restoration & Remediation?


Contact Riverside Restoration