We Work Directly
With Your Insurance Company
How To Get Rid Of Ice Dams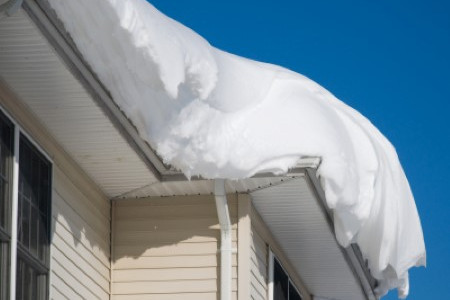 Water damage can occur from too much rain, cracks in your siding, or seeping water from a crumbling foundation. Another common cause of flooding in your home are ice dams . An ice /water-damage-restorationge, under certain wintertime conditions. When snow melts and flows down your roof then refreezes, it can block drainage to your gutters and downspouts, causing melting snow to flow to the ice hump and refreeze, building on that ice until it creates a dam-like formation.
How to Remove Ice Dams From Your Roof
An ice dam can put gutters and downspouts at risk, as well as cause damage to both your roof and the inside of your home. Water can seep underneath damaged roof shingles and into your home. One of our clients, Joe had water damage due to a ice dams. Riverside Restoration Inc. performed water damage restoration and roof leak repairs on his home:
Transcript:
CALEB: I'm Caleb Wright with Riverside Restoration Inc. and I am here with Joe Levine, Joe tell us a little bit about what happened with your loss
JOE: The winter of 2015 was rough on this house. We had a lot of water that came in through over the gutters into the upstairs. Ruined all the walls upstairs in the bedrooms and straight down through the living room. Strangely enough, I knew Caleb socially and he showed me different work he had done with people. I called some of his contacts that he had given me to check out and he was great. The insurance company was PURE who were absolutely fantastic, Caleb dealt with them, Mike Kuziak I think was the contact there and he did all the dealing with them. Showed them all the estimates and the scope of the work and there was no problem. Everything was taken care of.
CALEB: Would you recommend to your family and friends.
JOE: I would recommend Caleb and his company to anyone who needs his kind of service. He is great. He did a great job.
To fight existing ice dams, try placing ice melt or rock salt in an old sock or a paper bag and toss it onto the dam. This will help in allowing for drainage.
Ice Dams are a common sight in Connecticut winters. There are several things you can do to avoid getting an ice dam or to reduce the risk of damage after one has formed,. The best solution is a combination of better sealing, insulation, and venting in the attic and eaves.
ICE DAM PREVENTION
Before they form, it's important to know how to prevent ice dams . Try scraping snow from the roof whenever it falls using a snow rake from below or a broom or plastic shovel from above. But be careful: this first method can bury you in snow, the second can send you slipping off the roof. Hire someone who knows how to use a safety line.
DEALING WITH EXISTING ICE DAMS
Removing the ice dam is slow, dangerous work, so hire someone experienced at roofing. Even if you do it safely, the chunks of ice can take pieces of shingle with them. Riverside Restoration Inc. can remove the ice dam, inspect your roof, clean your gutters, and even assist with any water damage the ice dam caused.
Does your home have water damage from an ice dam or roof damage from winter?
Call Riverside Restoration Inc. at the first sign of a roof leak to save major water damage to your home and money in repairs! Skilled professional restoration experts are available 24/7 to assess your damage and provide solutions to getting your home back to normal.
At Riverside Restoration Inc., we proudly service the Westport, Weston, Greenwich, Cos Cob, Darien, Southport, New Canaan, Fairfield, Old Greenwich, Riverside, Wilton, CT and surrounding areas with their flood remediation and water damage restoration needs. We will handle all aspects of your restoration from extraction and drying to the rebuild and remodeling.
Need Help with Restoration & Remediation?


Contact Riverside Restoration
Contact Us
If you are looking for a professional water damage restoration contractor in Westport or the surrounding area, give us a call today at 203-227-2655 or complete our online request form.