We Work Directly
With Your Insurance Company
How To Choose The Best Patio Heater For Your Outdoor Space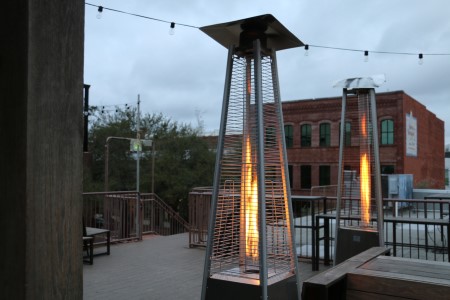 Even though winter is coming, this does not mean that you have to give up using your outdoor space. With social distancing still in effect, it is important to keep spaces safe for families to gather in safe distances, and outdoors is the perfect way to do so.
But how do you stay outdoors when temperatures are dropping? It may be time to invest in a patio heater! Here are some recommendations on patio heaters for different spaces – and how to choose the right one for your needs.
What Types of Outdoor Patio Heaters are There?
Outdoor patio heaters come in a variety of different types. Before choosing the right one for your space, think about the following:
Size of your space
Type of fuel used in your heater
What you want to use your heater for
Where you want to place your heater
Will your heater be permanently placed or portable?
Portable Heaters
If you're looking for a small portable heater, you may want to invest in a tabletop or camping heater. These are typically fueled by propane canisters or tanks, and work on tabletops, on campsites, or in smaller areas – it all depends on the size of the propane tank you purchase.
Most heaters are adjustable and can heat indoors and outdoor spaces for up to three hours on high settings. These small outdoor heaters are typically less expensive than their larger counterparts and come with a safety automatic shut off switch to prevent fires from occurring if they are knocked over.
Small Outdoor Heaters
If you're looking for an option that is a little more permanent, smaller outdoor heaters start at around 3' tall. These look like the larger heaters that you typically see in restaurants, just in a more compact package. They can be placed on tables or on the ground and also run on electric or gas-powered fuel sources.
Table-top Fireplaces
This is a permanent option that cannot be brought inside during the summer months. A fireplace is more of a conversation piece that will become a gathering place of your backyard patio. Most come with adjustable flames and produce an amount of heat that is hot enough to keep a group of people warm well into a chilly night.
Freestanding Outdoor Heaters
These are the large heaters that you see on the patios of restaurants. They are easy to use but aren't portable. Once you decide to go this route, pick a place for this heater and be prepared to leave it there for the season. These large heaters are fueled by propane tanks (typically 20-pound) which allows them to provide a good amount of heat and keep you and your guests warm during visiting sessions.
Safety Precautions
Like any fire source, it is extremely important that you take all necessary precautions when using an outdoor patio heater. Keep all flames free of low hanging branches, and far enough away from your home that a rogue spark or flame will not cause a fire to break out.
A fire extinguisher should be nearby in case of an accidental fire, and NEVER leave the heater unattended. If a fire should break out, call emergency service immediately. Despite best efforts, fire damage can happen regardless of the best planning.
At Riverside Restoration Inc., we know how stressful an experience a fire can be for everyone involved. We are available to answer questions about the next steps after a fire happens and will work diligently to bring your home back to normal as quickly as possible . Call us immediately , 24/7 and we will be on-site as quickly as possible to begin restoration processes.
Need Help with Restoration & Remediation?


Contact Riverside Restoration