We Work Directly
With Your Insurance Company
How Many Birthdays Has Your Hot Water Heater Had?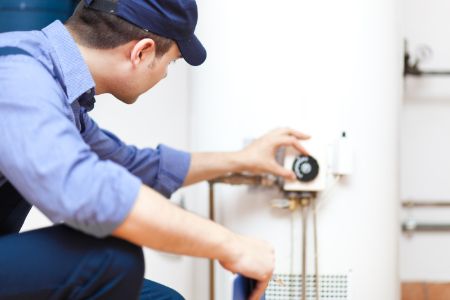 From clean dishes to a relaxing bath, we depend on hot water in our homes to make daily life easy and even enjoyable. Most homeowners get their hot water from a conventional tank hot water heater. Using gas or electricity, these major appliances heat and hold large amounts of hot water until needed.
Because they hold so much water, a leak, crack, burst pipe, or valve failure can lead to a huge mess, and potentially major water damage to your home. Thankfully, damage from a hot water heater leak is usually covered by your homeowners insurance, provided that the hot water heater is well maintained and within its usable lifespan. This is where the birthday question comes in. Do you know how old your hot water heater is? What about at your vacation home, investment property, or business?
The usable lifespan for traditional, tank-style hot water heaters is only around 8-12 years. If your hot water heater is older, or you failed to maintain it correctly, your insurance may consider you negligent in not having replaced it. As a result, water damage from the leak (or flood) may not be covered by your insurance. Thankfully, these problems are largely preventable.
As a homeowner, you can protect yourself by following these four tips:
Make sure you have right insurance coverage for all types of water damage at your home. Review your policies, and talk to your agent to make sure you understand how you are protected.
If you have recently completed home remodeling projects, talk to your insurance agent to make sure that you have the right amount of coverage for your updated home.
Know the ages of all hot water heaters at all of your properties. Create a plan for preventative replacements, and keep documentation of your updates. Don't let too many birthdays go by!
Complete the manufacturer recommended maintenance for the hot water heaters on your property, with help from a professional if needed.
Have an established relationship with an experienced water damage restoration contractor. Knowing who to call will save you stress and critical time when you are faced with a problem.
Water Damage From a Hot Water Heater Leak? Riverside Restoration Is Here To Help
When you have water damage in your home, a quick response will give you the best results. Ignoring even a small leak can lead to big problems including structural damage, mold, pests, bacteria growth, and health hazards. With professional help, you can get your Connecticut home restored as quickly as possible, stopping issues before they cause more pervasive problems.
In addition to our technical expertise, partnering with a trusted, local water damage restoration team can save you money in several ways. At Riverside Restoration, we can get you back into your home quickly, restore items you thought you had to replace, and will work closely with you and your insurance company to ensure you get the help you're entitled to under your homeowner's insurance policy.
Don't be overwhelmed by the soggy, rusty mess that a hot water heater failure can leave behind. Getting professional water damage restoration protects your family (and your investment in your home) by knowing the clean-up was safe and complete. Riverside Restoration is a trusted partner of homeowners in Cos Cob, CT Darien, CT Fairfield, CT Greenwich, CT New Canaan, CT Old Greenwich, CT Riverside, CT Southport, CT Weston, CT Wilton, CT
Need Help with Restoration & Remediation?


Contact Riverside Restoration