We Work Directly
With Your Insurance Company
Do You Need To Remove Tile Flooring After Water Damage?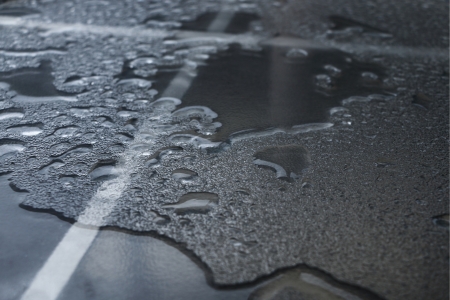 Tile is considered to be one of the most water-resistant flooring materials available. Because of this, it's a popular choice for areas with plumbing like kitchens and bathrooms, as well as high traffic areas connected to the outdoors.
If your home experiences water damage from a plumbing mishap or weather like a storm or flood, you may be wondering if your tile will need to be replaced. As Connecticut water damage restoration experts with many years of experience, we have seen every type of water damage and know how it can impact every type of flooring. In this article, we will explain how your tile flooring can be compromised by water damage, and what a safe, thorough, restoration process should look like.
Can a Leak or Flood Damage Tile Flooring?
This is a simple question that has a complex answer. Obviously, tile flooring won't be damaged by normal daily life. A spilled glass of water, wet shoes, and even an overflowing sink that it quickly stopped and wiped up won't cause damage to your tile flooring.
However, if you are dealing with standing water, contaminated water, or a long-term leak, it's a different situation. In these cases, the adhesive and grout that seal the tiles can be penetrated or contaminated, leading to damage to your floor. Standing water can seep through the tile and destroy the adhesive bond, causing deterioration. Wobbly or loose tiles can be evidence of this.
Additionally, unsealed grout will make your tile floor vulnerable to water damage. When the grout is unsealed, water can penetrate through the grout and again collect under the tiles and soak the subfloor.
Finally, the way tile is laid can cause additional problems. Typically, flooring tile will be set in a thin layer of mortar that is applied with a grooved trowel. Those grooves in the mortar sometimes flatten out when the tile is laid, but sometimes small pockets remain where water can get trapped.
Even though you may only have a few loose or wobbly tiles, the damage is usually much bigger than those few tiles. In most cases, the entire subfloor surface underneath the tiles gets damaged.
As the water sits under the tiles and penetrates the subfloor under the tiles, mold, mildew, and bacteria can start to grow. Drying, treating and even removing and replacing these materials is particularly important when dirty water, such as from a flood or sewage back-up, has penetrated the floor.
Water Damage Restoration In A Home With Tile Floors
Due to the reasons we just explained, significant water damage to tile flooring needs professional attention. Whether it was due to a slow plumbing leak or a sudden sewage back-up, fast and complete action is needed.
When you have major water damage to a room with tile flooring, you will most likely need to remove the tile and replace the damaged subfloor products that might be waterlogged and weak. After you fix up the floor underneath and completely dry and treat your home, you can have your tile flooring re-installed and re-grouted, making sure to re-seal the grout.
Skipping any of these steps or thinking you can let the water damage just air dry comes with many potential problems. There are lots of hidden places where mold, mildew, and dangerous bacteria can hide. There also may be dangerous, unseen structural problems with your flooring. Getting professional water damage restoration help that includes disinfecting and preventative treatment, and reinstalling the tile is often the best choice for your family and your home.
Contact Riverside Restoration For Help With Water Damaged Connecticut Homes
If you are dealing with water damage in your kitchen, bathroom, or any other area with tile flooring, please know that it's not as simple as mopping it up and moving on. Situations like contaminated water, and water that has penetrated under your tile will require professional help in order to ensure that your Norwalk home is safe and structurally sound. If you need a trusted opinion on your water damaged flooring, contact Riverside Restoration today.
Need Help with Restoration & Remediation?


Contact Riverside Restoration