We Work Directly
With Your Insurance Company
Cleaning Up Water Damage Without Professional Help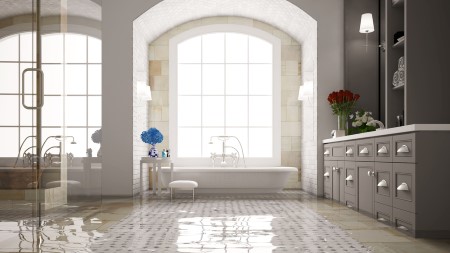 Dealing with water damage to your property can be a stressful situation. Not only are you dealing with standing water and potential damage to the structure of your building and personal possessions, but now you need to decide if you can handle the water damage on your own, or if it is necessary to bring in the help of a professional water damage restoration company to clean up the mess.
When Can You DIY the Clean-Up?
The Institute of Inspection, Cleaning, and Restoration Certification break down water damage clean up into 4 classifications based on materials affected. First, let's talk about the categories of water damage and what they mean for clean up before we discuss the different classifications.
Category 1

Class one water damage involves clean water. This class does not cause any threat to humans and can include water damage from appliance leaks or sink overflows.

Category 2

Gray water is contaminated and may cause sickness if swallowed or ingested. This type of water can be found when a toilet is broken or a sump pump has overflowed and caused seepage.

Category 3

Blackwater is unsanitary and contains bacteria that can cause sickness. Sewage and contaminated standing water are included in this class.

Only Clean Up Category 1

If you want to clean up water damage yourself, it is safe to clean up any category 1 leaks. Like we talked about above, these include things like leaky appliance hoses or clogged sinks. Typically these issues do not produce water that has harmful bacteria or organisms that can cause any type of harm to humans. If you believe that the type of water damage you're dealing with could potentially be a category 2 or 3, it's time to call in the professionals.
What About Water Classifications?
Water classifications are important when it comes to assessing repair options.
Class 1

Typically the least harmful form of damage, materials have absorbed very little water. Water damage is easiest to repair in this situation.

Class 2

Water evaporates quickly leaving carpets and cushions damaged. At this level, repairs are more difficult to complete.

Class 3

The fastest rate of evaporation, water in this class typically comes from broken overhead sprinklers or other sources – soaking walls and furniture.

Class 4

This class requires immediate attention from a professional water damage restoration team. Water at this level affects hardwood floors, plaster, and concrete.

These classes of water damage are also indications of what should be handled by a professional and what can be handled in house. Class 1 is the only classification of water damage that is safe to be handled by someone other than a professional water damage restoration company.

If water damage is at levels 2 through 4, more work restoration steps may be required. Damage like this can lead to mold growth requiring mold remediation or other construction work.
Why Do I Need a Professional?
While it may seem easy to clean up water damage, there are areas that water touched which you may miss. When your property suffers from water damage there are many things that can occur from this problem. This includes mold and mildew, structural damage, and even health problems for those living in the house if the damage is not handled properly.
That's where a professional water damage restoration company can assist. At Riverside Restoration Inc. , we've helped homes in Fairfield, Greenwich, Riverside, and surrounding areas deal with water damage – and all of the issues that come with it.
Our team is professionally trained to handle all types of water damage leaks. We're ready to respond 24/7, 365 days a year. Call 203-227-2655 or fill out our online request form for more information.
Need Help with Restoration & Remediation?


Contact Riverside Restoration
Contact Us
If you're looking for a water damage restoration company in Westport, call Riverside Restoration Inc. at 203-227-2655 or complete our online request form.