We Work Directly
With Your Insurance Company
Backyard Fire Safety Tips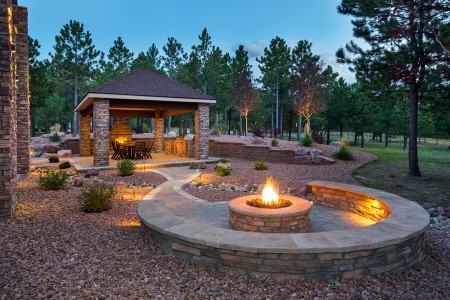 As we move from winter into summer, we start spending more weekends outside. This includes bringing out the backyard barbecues and fire pits!
Enjoying your backyard grill or fire pit can be the perfect way entertain friends and family! There are a few backyard fire safety measures to keep in mind before lighting those fires and getting cozy next to the flames.
Keeping Safe When Cooking on the Grill or in a Backyard Kitchen
If using a gas or charcoal grill to cook, ensure it is on flat, solid ground that is at least 10 feet away from the house, trees, or any other combustible materials.
Designing a permanent backyard kitchen? Then turn to a professional to design and build the structure. They will pay particular attention to ensure proper ventilation for grilling, using the correct materials, and the right professionals to install things like gas and water lines.
It takes just moments for any type of fire or cooking to get out of hand. Keep a bucket of water, garden hose, or fire extinguisher near by for emergencies.
It's always important to never leave cooking unattended, accidents may happen in a blink of an eye. Keep children and pets away from the grill or outdoor kitchen area when cooking.
How to Correctly Install a Fire Pit
Determine if you will be installing a permanent or a portable fire pit. It's important to determine if your fire pit will be wood burning or gas powered. Check with your local municipality about rules for both types of fire pits. Be sure to select a professional to properly run necessary gas lines if this is the route you decide.
Prepare your yard. Do not just put a fire pit onto your grass – your fire should be in an enclosed area like a fire bowl, fire pit, or fire table.
After you have decided on the best space, clear the area of any debris like grass, leaves, pine needles, or trees. Select a location that is at least 10 feet from your home and your neighbor's yard or other combust able materials. One stray spark could ignite any loose materials and cause a fire to break out.
Do not place furniture too close to the fire pit. Set up furniture far enough away from the fire that allows safe movement around the pit. Consider installing permanent furniture to avoid people getting too close to flames.
Your fire pit should be fit with springs to contain ash and sparks. A lid can be used to keep control of the flames as well.
Never put a fire pit underneath trees or a roof.
Keep flammable liquids far away from the fire pit. Most liquids can combust just from the heat of a fire!
What to Watch for During the Fire
NEVER leave a fire unattended. Even a small fire can get out of hand in a matter of seconds.
Keep back a safe distance from the fire itself. Stray sparks can fly around which can cause singed clothing and burned skin.
Keep an extinguisher on hand, whether it is a hose or an actual fire extinguisher. In case of emergency, you want to act fast and douse the flames.
Never leave children alone around a fire pit. Typically, children are curious about fire and can get too close to the flames.
When You're Finished
One of the biggest backyard fire safety measures is to make sure you properly extinguish any fire and waste when done. Wait 24 hours before you decide to move any ashes if you used a charcoal grill or wood fire pit. This gives the ashes a full day to extinguish and not hide any smoldering embers. Be sure to turn off all propane tanks or gas lines when cooking is done. Don't leave fires or grills burning when done. One small bit of wind and an ember is all it takes to cause some major fire damage.
Despite your best efforts, backyard fire safety problems can still occur. If you do experience fire damage from any type of disaster, Riverside Restoration Inc. is ready with our experienced team to take care of your fire restoration needs. We know how difficult it is to experience any type of fire damage and will handle all the steps necessary to get you and your home back to normal as quickly as possible.
Contact our team 24/7 for emergency fire and smoke damage cleanup services in Westport and surrounding CT areas.
Need Help with Restoration & Remediation?


Contact Riverside Restoration